EastEnders fans praise Ricky Champ for portrayal of 'evil' Stuart Highway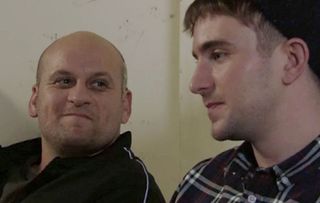 Viewers were left seriously creeped out after Friday night's episode
EastEnders villain Stuart Highway stooped to new lows during Friday night's episode, managing to convince his brother Halfway to team up with him AGAINST the Carters.
Avid fans will know Stuart is trying to frame Tina Carter for attacking him at The Arches – when in fact it was the other way around.
When Halfway met with Stuart to try and play peacekeeper, his older brother used some clever emotional blackmail to win him over – leaving viewers reeling as Halfway moved out of the Vic.
One wrote: 'Gotta admit, @RickyChamp1 is doing a hell of an acting job as Stuart Highway. I've got a mixture of hatred AND being creeped out by the character. Takes a good actor to pull that off.'
Another said: 'Watching #EastEnders don't like Stuart he is a proper mess but well played @RickyChamp1.'
A third added: 'Well done to the actor, I absolutely hate the character! #EastEnders.'
Fans have been left wondering if the Carter family will be involved in a Christmas whodunit, after Shirley issued a warning and told Stuart he 'wouldn't see another Christmas'.
Well, it wouldn't be Christmas in Albert Square without a bit of drama, would it?
Thank you for signing up to Whattowatch. You will receive a verification email shortly.
There was a problem. Please refresh the page and try again.