Emmerdale shock – Ask your dad Debbie about Joe! Andrew Scarborough on Graham's explosive next move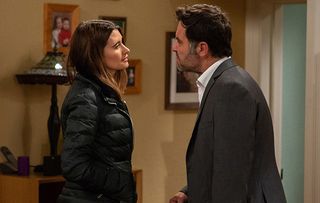 'Graham is on the brink...'
Emmerdale actor Andrew Scarborough has revealed that Graham Foster will drop Cain in it over Joe Tate with Debbie Dingle!
Since he secretly did away with Joe, on Kim's orders, Graham has unravelled and turned to drink again.
If he's going to keep his killer secret under wraps – and continue to let guilt-ridden Cain Dingle think he bumped Joe off during a scuffle on Debbie's doomed wedding day – he needs to keep it together.
But as Graham's drink problem takes over next week, he opens the door wider on the controversy and lands Cain in hot water. After running out of booze at Home Farm, Graham plans to drive to get more when Megan tries to talk sense into him. Her kindness touches Graham, who then tries to plant an unwanted kiss on his former lover!
In the end, young Noah Tate manages to dissuade Graham from driving. "Noah tells him it's not a good idea. He's fond of Noah and realises he's right," says Andrew.
All the while, Graham is desperate to come clean about Joe's death. Walking Noah over to Butlers Farm, he causes a scene by announcing, in front of Debbie, that Cain knows more about Joe's "disappearance" than he's letting on…
"Graham is on the brink of exploding," Andrew explains.
"The secret is such a burden and keeping a lid on it is hard. He lets slip that Cain knows more than he's saying. He can't help himself. It's deflection – Graham wants someone else to feel what he's feeling."
What will Cain say?
Emmerdale continues on ITV.
Get the latest updates, reviews and unmissable series to watch and more!
Thank you for signing up to Whattowatch. You will receive a verification email shortly.
There was a problem. Please refresh the page and try again.