Emmerdale fans were loving THIS scene from last night's episode. Did you see it?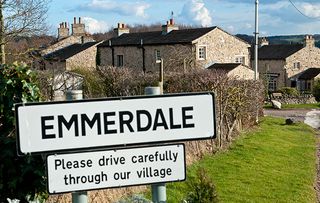 (Image credit: ITV)
Last night's Emmerdale had fans in stitches as two characters proved themselves to be the soap's new comedy duo...
Wednesday night's Emmerdale might have been full of drama as Maya discovered Jacob had confided in Ellis about the kisses they had shared, but that wasn't the only thing that had viewers heading to social media.
Fans were also loving the comedy one liners coming from Eric and Faith as they tried to escape interfering Rodney and plan a night of passion together.
Viewers couldn't get enough of the pair's hilarious scenes as Faith teased Eric with her talk of silky nighties, and while Eric was desperately trying to find a time for them to be alone together, Faith was clearly playing games...
Desperate to get rid of Rodney so they can have their home to themselves again, Faith is using the fact that they can't get any time together without interruptions from Rodney to her advantage, hoping that Eric's frustration would lead him to throwing Rodney out on his ear.
But with Christmas around the corner, Eric was reluctant to turf his friend out - that is until Faith started talking about basting turkeys while wearing stockings. Then he couldn't wait to ask Rodney to leave!
Fans took to Twitter two share how much they had enjoyed the comedy scenes...
Probably the best scene of the evening was when Eric and Faith ended up at the Christmas carol concert rehearsals, desperately trying to use the singing practice as a way to get Rodney out the house so they could sneak back and enjoy some alone time.
Of course, the plan didn't really work... but when Faith told Eric about how they would be able to snuggle up in front of the fire if they had the house to themselves again for the festive season, Eric could hardly contain his excitement and the pair burst into song at the concert, leaving fans laughing at their classic comedy timing...
In more serious drama last night, Maya left Jacob in tears as she yelled at him for talking to Ellis about their kiss.
After confronting him about his heart-to-heart with his new hockey coach, Maya left the teenager heartbroken after telling him that from now on she was nothing more than just his teacher.
But with spoilers already hinting that this isn't the end of things between the forbidden pair, just what games is Maya playing with David's son?
Emmerdale airs weeknights at 7pm on ITV, with an extra episode at 8pm on Thursdays.
Pictures: ITV
Get the latest updates, reviews and unmissable series to watch and more!
Thank you for signing up to Whattowatch. You will receive a verification email shortly.
There was a problem. Please refresh the page and try again.