Emmerdale star Lucy Pargeter offers words of support for people going through IVF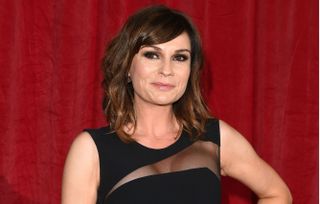 Lucy Pargeter, who plays Emmerdale's Chastity Dingle, has offered some words of support for couples going through IVF after announcing she is pregnant with twins.
Lucy Pargeter has offered some words of support for couples going through the turmoil of IVF treatment in the hope of becoming parents.
The 39-year-old actress announced she was pregnant earlier this year after 11 years of trying with fiance Rudi Coleano,
In an interview with OK magazine, Lucy revealed how there was just a 20% chance the IVF would be successful.
Lucy said: "The whole process is extremely hard. The not knowing, the wanting to get excited.
"For my age, the chance of it working was 20%, so we were pumping so much money into it and wanted it so badly, but it was completely out of our control.
"You can do everything right, but if those eggs don't want to stick, they won't."
Lucy and Rudi are parents to 11-year-old Lola, and Lucy said she fell pregnant just six months into their relationship.
Lucy said: "Ever since Lola, we've been trying for 11 years and now we're expecting twins.
"We thought if it happens, it happens. But it never did. We just thought I was too stressed out with work or a house renovation.
"We never had any concerns about secondary infertility [the inability to fall pregnant after already giving birth to one or more children] because we had Lola so easily after six months of being together.
"It wasn't until three or four years ago that I was like, hang on, I'm not getting any younger.
"Women don't realise that it's not just you getting older, it's your eggs getting older and your egg reserves get less every year.
"There is so much pressure for women to concentrate on their careers before kids, but then they get to 38 onwards and their career is fine, but their body isn't."
Thankfully everything worked out for the couple, and they are looking forward to welcoming the babies in the spring.
Today Lucy took to Twitter to offer words of support for anyone else going through fertility treatment.
She wrote:
It is not yet known how Chastity will be written out of the soap while Lucy goes on maternity leave to take care of the twins.
Get the latest updates, reviews and unmissable series to watch and more!
Thank you for signing up to Whattowatch. You will receive a verification email shortly.
There was a problem. Please refresh the page and try again.