Emmerdale spoilers: Moira Barton in SHOCK SHOWDOWN with burglars!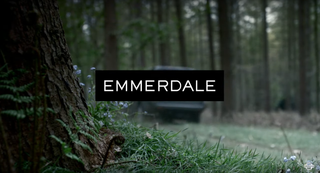 It wasn't much of a happy homecoming for Moira in tonight's episode of Emmerdale, when burglars broke into Butler's Farm...
Moira Dingle (played by Natalie J Robb) was back home in tonight's episode of Emmerdale, after taking a break from the village to visit her ill relative, Nana Barton.
But she walked straight back into BIG drama at Butler's Farm!
For starters, farmhand Nate Robinson (Jurrell Carter) is still sniffing about the place, making it clear he'd rather like to pick-up where he and married woman Moira left off after their steamy kiss in the haybarn.
But with Moira's moody husband Cain Dingle (Jeff Hordley) around, it was all too close for comfort and Moira angrily laid down the law to employee Nate:
"Nate, this is NOT happening," she warned him. "Are you really that delusional? If you want to work here, fine... then crack on. But if you want to harass me, get off my farm."
https://www.youtube.com/watch?v=zo_r4GbZBKY
Nate skulked off after that, landing himself in the bad books with both Moira and family relative Pete Barton (Anthony Quinlan) for skiving off his farm duties.
However, while Moira and Pete's backs were turned, a hooded figure sneaked into the kitchen at Butler's Farm...
Moira was alarmed when she returned home and caught a pair of hooded lads stealing and warned them to get lost before she called the police.
But during her stand-off with the thieves, Moira got slapped and shoved and left with a bleeding lip!
However, instead of Cain it was Nate who came to the rescue, scaring off the dodgy duo and attending to Moira's injury.
And was it just us, or was there a moment of Unresolved Sexual Tension between Moira and Nate before Moira's son, Matty (Ash Palmisciano) and Cain walked in and discovered the disturbance?
But there was a BIG twist at the end of the episode, when Matty found a driving licence dropped on the floor and realised one of the thieves was his new footie mate Jonathan 'Jono' Laverne (Eddie-Joe Robinson)...
Earlier in the episode, family friend Charity Dingle (Emma Atkins) warned Matty about Jono and Ste (Ned Cooper), who were sent packing from The Woolpack in last night's double-bill for their unruly behaviour.
https://www.youtube.com/watch?v=FU1nvbENRV4
"Matty, open your eyes," warned pub landlady Charity. "They are just using you. The sooner you realise that, the better."
"There's no way I'm letting them get away with it," Matty muttered to himself after the discovery his own "mates" stole from him and hit his mum. Cliffhanger!
What revenge does Matty have in store for his so-called new "friends"?
Emmerdale continues weeknights from 7:00pm on ITV
Get the latest updates, reviews and unmissable series to watch and more!
Thank you for signing up to Whattowatch. You will receive a verification email shortly.
There was a problem. Please refresh the page and try again.