Emmerdale star Jeff Hordley calls for THIS big change in Cain Dingle
The Emmerdale actor reckons it's time for his Dales alter-ego Cain to finally grow up.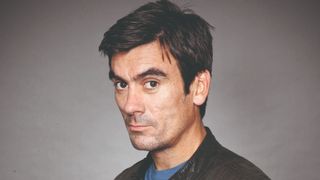 (Image credit: ITV)
Emmerdale star Jeff Hordley says he wants his iconic character Cain Dingle to grow up and become a better man.
The actor revealed his wishes ahead of a shock storyline next week, which will see Cain announce that he wants to cut ties with his son Kyle.
Cain, who is renowned for his short fuse and for settling arguments with his fists, makes the decision after the schoolboy is involved in an altercation with Jimmy and Nicola King's son, Carl.
Believing Kyle's violence is a reflection of his parenting, he decides the lad would be better off living with his biological mum, Amy Wyatt, and even encourages Amy to move away with Kyle to Ireland.
"There's a bit of an epiphany that Kyle is going to end up like him if he carries on witnessing the way that Cain behaves," says Jeff Hordley.
"That's a lot to do with things Amy says to him, but there's also a lot of self-loathing on Cain's part. He knows that he flies off the handle. Kyle is witnessing this, constantly, and now he's starting to hit out at people. Cain thinks, 'Maybe that's down to me.'
"Underpinning this is what happened in the barn (when Kyle accidentally shot Al Chapman, after seeing Cain fighting with Al over his affair with Chas).
"Ultimately, Kyle would never have been put in that situation had Cain not made the decision to bring Al to the barn to try and resolve a situation by going, 'Right, I'm going to hurt this man.'"
As Kyle's step mum, Moira begs her husband to reconsider. Jeff adds that, should she convince Cain to change his mind, he hopes this will signal the start of a new chapter for his famous alter-ego.
"After the loss of Faith, his time spent in prison (when Cain tried to take the rap for Kyle murdering Al) and all the trauma to Kyle's life, I would hope that there is a significant change or at least an attempt to change his ways," Jeff tells us.
"Otherwise, I think the viewers will be like, 'Oh, what has he learnt?' and they'll get bored.
"Unfortunately, the DNA of Cain has to remain, and I would presume the writers would always want that edge to him. But it's a question of how they incorporate what has happened into the future of the character.
"There's only so long you can go around punching people. I want to see more maturity in Cain, less angst with the world, and more of an attempt to be a better man.
"I think that's where the character should go. Even if he occasionally drops his guard or he loses it, just to have a realisation of, 'Oh no, I've done it again.'"
Cain has had a busy few months of late. When Kyle murdered Al last Autumn, he tried to take the rap for the crime, and spent several months in prison. Kyle, however, struggled with the lie and later confessed all to the police.
Meanwhile, as Cain was behind bars, his and Chas's long-lost brother Caleb (William Ash) came back into their lives. Caleb had an axe to grind with Cain, who had lied to him several decades ago that their mother Faith was dead — when in fact, Faith had been dead just a matter of months.
The two brothers have since made their peace, and rich Caleb stumped up cash for lawyers in a bid to secure Kyle's freedom. However, it was recently revealed that he had come to the village with a hidden agenda.
Questioned about Caleb's big secret, Jeff admits that he hasn't been told the details, but has an idea of where the story is going.
"I'm not 100% sure," he says. "I've got an inkling, but the producers always tell people to keep things under wraps, which is a good idea because you can get told a storyline a year in advance and before you know it, it's out.
"I've got an idea where it's going, but I don't know for sure. I'm just thrilled to have a good friend on board in Will. I think he really brings a lot to Emmerdale — the character has got gravitas and Will is a fantastic actor."
Emmerdale airs weeknights at 7.30 pm on ITV, with a hour-long episode on Thursdays — see our TV Guide for full listings. You can also catch up on ITVX.
Get the What to Watch Newsletter
The latest updates, reviews and unmissable series to watch and more!
Alison Slade has over 20 years of experience as a TV journalist and has spent the vast majority of that time as Soap Editor of TV Times magazine.
She is passionate about the ability of soaps to change the world by presenting important, issue-based stories about real people in a relatable way.
There are few soap actors that she hasn't interviewed over the years, and her expertise in the genre means she has been called upon as a judge numerous times for The British Soap Awards and the BAFTA TV Awards.
When she is not writing about soaps, watching soaps, or interviewing people who are in soaps, she loves going to the theatre, taking a long walk or pottering about at home, obsessing over Farrow and Ball paint.