Emmerdale star reveals UNEXPECTED twist that leaves their character facing jail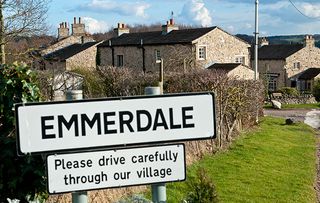 (Image credit: ITV)
Emmerdale star Jay Kontzle reveals the shock storyline that finds his character on the wrong side of the law once again...
Emmerdale's newcomer Jay Kontzle, better known to soap fans as Jessie Dingle's wayward son Billy Fletcher, spills the beans on what it is like to be the new boy on set, and how a new twist in the storylines leaves his character facing jail once again...
WOTV: Why is Ellis and Billy's relationship so fraught?
Jay Kontzle: "Ellis has always felt overshadowed by Billy because of Jesse's relationship with Billy's father. They were so close and the relationship ended due to the death of Billy's dad, the love was still there, whereas the relationship between Jessie and Ellis's father ended due to him leaving. Billy has always been the golden son to Jessie."
WOTV: How have they been getting along since Billy arrived in the village?
JK: "It's been a disaster really. Billy's been trying to build bridges between the two of them and Ellis has been breaking them down. He doesn't believe a word that comes out of Billy's mouth. Billy's trying to prove he's not as bad as Ellis is making out, but it's just a fragile situation.
WOTV: What happens in the lead up to the fight between Billy and Ellis?
JK: "There's an issue between Billy and Aaron from their past in jail together. Robert is out to protect Aaron and do whatever possible to get Billy out the village. One of the ways he's doing that is creating friction between Billy and Ellis. He tells Ellis that Billy is getting close to Victoria, which obviously stresses Ellis out. Robert tells Ellis the only way to stop anything happening is to get rid of Billy."
WOTV: Billy lashes out and punches Ellis but how does he feel afterwards about his actions?
JK: "He's feels destroyed inside because he knows he's let his mum down and himself down at the same time. He feels that Ellis has got what he wanted and this could potentially be the end for him. He knows he could be sent back to jail again which is very upsetting."
WOTV: Marlon throws him out. How does Billy feel about that?
JK: "There are mixed emotions, he's angry because it's this new man that has come into his mother's life and taken control, but at the same time he's disappointed that he's let someone down who loves his mum."
WOTV: What's Jessie's reaction to the fight?
JK: "She's upset and torn between whether she believes Billy or Ellis. Her relationship with Marlon is supposed to be on the rise after them recently getting married but now it's deteriorating because of this friction."
WOTV: Does Billy think his mum will always have his back?
JK: "He did until this moment of him hitting Ellis, but now he's worried. There's no one else there for him. If anyone can save him it's got to be his mum so he's anxious about what's coming next."
WOTV: How worried is Billy about going back to jail?
JK: "Very worried. He didn't have a good experience in jail, there's stuff that's happened to him that's had a massive impact on his life. With him being claustrophobic he doesn't like small spaces and being locked up so if he was to be put back in jail again it would have a huge effect on his emotional state."
WOTV: What have your first few weeks at Emmerdale been like?
JK: "It's such a huge job and huge opportunity for me and everyone has been so supportive over the last eight weeks. It's been full on but I love having stuff to do and being productive, it's been great."
WOTV: What do you think viewers will make of Billy?
JK: "I think it will be a mixed bag. There's a nasty dark side to him but there's also a vulnerable side and I think people will like both."
WOTV: Will Billy and Ellis ever bury hatchet?
JK: "I hope so because me and Asan (who plays Ellis) are best buddies but I don't think it will happen any time soon."
Emmerdale airs weeknights at 7pm on ITV, with an extra episode at 8pm on Thursdays.
Get the latest updates, reviews and unmissable series to watch and more!
Thank you for signing up to Whattowatch. You will receive a verification email shortly.
There was a problem. Please refresh the page and try again.