Emmerdale's Patrick Mower: Rodney Blackstock is so furious he could die!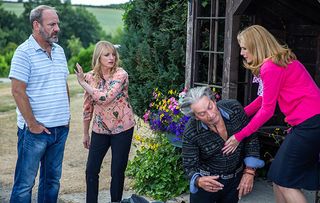 Patrick Mower reveals how Rodney Blackstock is struck down after discovering the truth about Misty's departure
Nicola and Bernice are on top of the world in Emmerdale when they get shot of their dad's young girlfriend, Misty. Finally, no more talk about chakras and spirit animals, and no more hearing about Rodney Blackstock and Misty's deeply fulfilling sex life – or, worse still, actually hearing the couple's deeply fulfilling sex life.
Next week, however, euphoria turns to guilt for the scheming sisters, who convinced Misty to leave for a fire-eating job in Thailand alone, after lying that their father was too ill to go with her.
The sight of rampant Rodders chasing Misty round the house may have been hard to stomach, but so is the sight of him tear-stained and depressed over losing his lover.
"Rodney is in utter shock, and he's mystified as much as heartbroken," reveals Patrick Mower, who plays the sex-mad senior citizen.
"He's had many women in his life, but thought he'd found his soul mate – and then, suddenly, Misty told him she didn't love him."
[Check out the latest Emmerdale spoilers]
The pensioner has no idea of his daughters' interference, but when Pollard remarks that perhaps his nearest and dearest weren't Misty's biggest fans, he confronts Nic and Bernice. Bernice is then forced to come clean, and Rodders gets into such a rage that he becomes seriously ill.
"He vows never to speak to them ever again," adds Patrick, "and is so furious that he ends up collapsing."
A horrified Nicola calls for an ambulance, and Rodney's life hangs in the balance as he's rushed to hospital. Have Nicola and Bernice inadvertently killed their father?
Emmerdale continues on ITV.
Get the latest updates, reviews and unmissable series to watch and more!
Thank you for signing up to Whattowatch. You will receive a verification email shortly.
There was a problem. Please refresh the page and try again.