The Umbrella Academy season 3: release date, plot, cast, trailer and everything we know
The Umbrella Academy season 3 is back to transport us to more superhero antics and multiverse mayhem.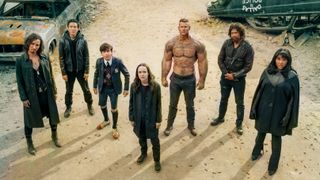 (Image credit: Netflix)
The Umbrella Academy season 3 is close to its highly anticipated arrival and it's set to answer all of our long-awaited questions after The Umbrella Academy season 2 left us on a huge cliffhanger.
Season 2 saw our favorite superpowered siblings stuck in 1960s Dallas as they battled against the evil Handler. After defeating her, they eventually found their way back to the present day — but what they returned to was completely unexpected.
The clan soon discovered that they had ended up in an alternate present day where the head of the Umbrella Academy and their Dad, Reginald Hargreeves (Colm Feore), had adopted seven different superpowered children, calling them the Sparrow Academy.
Not much is known yet about the Sparrows, but we know that Ben (Justin H. Min) is now their leader, who had died in another timeline.
We're sure that season 3 will see more dangerous action unfold for the adoptive siblings and, importantly, what problems the Sparrows could have in store for the Umbrellas.
As well as thrilling adventure from the paranormal gangs, we'll also see Elliot Page portray a new reiteration of his character since coming out as transgender in 2020 and new characters introduced as part of the Sparrows group.
Here's everything we know about The Umbrella Academy season 3...
The Umbrella Academy season 3 release date
The Umbrella Academy season 3 was released globally on Netflix on Wednesday, June 22.
Back in March, a short teaser trailer was dropped to announce its release date, which shows the Umbrellas preparing to face off against the Sparrows.
Which cast members are returning to The Umbrella Academy season 3?
The Umbrella Academy season 3 will see the return of the much-loved cast of the Hargreeves siblings, including:
Elliot Page as Viktor Hargreeves (Number Seven)
Tom Hopper as Luther Hargreeves (Number One)
David Castañeda as Diego Hargreeves (Number Two)
Emmy Raver-Lampman as Allison Hargreeves (Number Three)
Robert Sheehan as Klaus Hargreeves (Number Four)
Aidan Gallagher as Number Five
Justin H. Min as Ben Hargreeves (Number Six)
Joining them as returning cast will also be Ritu Arya as the Handler's adopted daughter, Lila Pitts and Colm Feore as Reginald Hargreeves.
Elliot took to Instagram to announce his character's new name as Viktor Hargreeves for season 3, previously known as Vanya Hargreeves in seasons one and two.
Since Elliot Page announced his transition after season two, fans have been wondering how his transition would be included in the series.
Now, he has since confirmed that the character will come out as transgender in the comic book adapted series, but further details are being kept under tight wraps.
What is the Sparrow Academy and who's in it?
Welcome to the multiverse! Time travel always has consequences. And in this case, that consequence is the Sparrow Academy, which was introduced at the end of season 2.
We already knew — spoiler! — that Ben Hargreeves is in this rival gang of short-pants students. We now know (mostly) who else is in the Sparrow Academy, with the new superpowered gang consisting of:
Justin H. Min plays an alternate-reality Ben Hargreeves, but he isn't exactly the softie that we saw sacrifice himself in Season 2. This Ben is Sparrow No. 2, and is described as a "Machiavellian tactician" who is "vicious, pragmatic, and hyper-vigilant" and "determined to gain his status as the leader at all costs."
Justin Cornwell plays the No. 1 Sparrow, Marcus. Marcus is described as "a charming, chiseled colossus" and "as smart as he is strong." The streamer for the show says Marcus "oozes confidence and leadership without ever having to raise his voice". A suitable rival for the returning Ben Hargreeves, then.
Sparrow No. 3 is Fei, played by Britne Oldford. Fei "sees the world in a special way and comes across as a misanthrope who would rather be alone than spend even a second with you," apparently.
Jake Epstein is Alphonso, the No. 4 of the Sparrow family. Alphonso is a scarred, chiselled figure who's been fighting crime for years, and compensates for this with 'a caustic and biting sense of humor'.
Genesis Rodriguez plays No. 5, Sloane. Sloane is apparently a "romantic" and "a dreamer," but one who feels a higher cosmic calling leaving her eager to see the world'. Expect this to conflict with a sense of obligation and duty to the rest of the Sparrow family in season three.
Cazzie David rounds out the announcements as Sparrow No. 6, aka Jayme. Jayme "is a loner hidden under a hoodie," but one who has access to a "fear-inducing snarl." This is probably why she can't make friends, since seeing it makes you want to flee in the opposite direction.
Existential Dread Inducing Psykronium Cube aka Christopher as Sparrow No.7. This floating cube will hand out advice as a sort of oracle figure for the other Sparrow Academy siblings, but can 'turn the room freezing cold and induce paralyzing fear' in those he doesn't like.
In addition to the new Sparrows cast, Euphoria star Javon Walton told Complex that he will also be joining the series, but no details about his role have been revealed.
Since the series hit Netflix, we found out that Javon played Stan, who Lila pretended was her son with Diego to test his parenting abilities.
However, it turned out that he was in fact the son of her friend and she was looking after him.
I heard a rumor… that Javon Walton is joining the cast of Umbrella Academy Season 3 — and I'm happy to confirm that it is true! 📸:: Reed Macke pic.twitter.com/I3vGAuqz0LMarch 1, 2022
What is the plot of The Umbrella Academy season 3?
Season 3 will begin exactly from where we left off with the official Netflix synopsis reading: "After putting a stop to 1963's doomsday, the Umbrella Academy return home to the present, convinced they prevented the initial apocalypse and fixed this godforsaken timeline once and for all. But after a brief moment of celebration, they realize things aren't exactly (okay, not at all) how they left them.
"Enter the Sparrow Academy. Smart, stylish, and about as warm as a sea of icebergs, the Sparrows immediately clash with the Umbrellas in a violent face-off that turns out to be the least of everyone's concerns.
"Navigating challenges, losses, and surprises of their own – and dealing with an unidentified destructive entity wreaking havoc in the Universe (something they may have caused) — now all they need to do is convince Dad's new and possibly better family to help them put right what their arrival made wrong.
"Will they find a way back to their pre-apocalyptic lives? Or is this new world about to reveal more than just a hiccup in the timeline?"
How long is season 3?
Season 3 of The Umbrella Academy will keep its narrative tight, just as the previous seasons have been. It will be made up of 10 one-hour episodes featuring the aforementioned returning cast and whichever surprises they decide to throw at us next year.
It is currently unknown as to whether Netflix will release the episodes all at once or if they will drop them in the increasingly used - but not popular with viewers - weekly format.
We did, however, learn the titles of each episode on June 8!
Is there a trailer?
We're transported to multiverse madness in the newly released trailer as we experience their classic sibling bickering, all while trying to save the world from being obliterated.
Get the What to Watch Newsletter
The latest updates, reviews and unmissable series to watch and more!
Amelia is an entertainment Streaming Editor at IGN, which means she spends a lot of time analyzing and editing stories on things like Loki, Peacemaker, and The Witcher. In addition to her features and editorial work, she's also a member of both the Television Critics Association and Critics Choice. A deep love of film and television has kept her happily in the entertainment industry for 7 years.