Strictly Halloween - Gemma, Davood and Debbie look spook-tacular!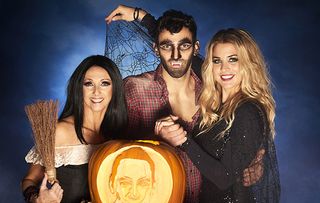 (Image credit: Photographer: Dan Goldsmith Styl)
Debbie McGee, Davood Ghadami and Gemma Atkinson join TV Times for an exclusive photoshoot to celebrate Strictly's fang-tastic annual special!
There's a full moon over Elstree Studios, and TV Times is creeping through the cobwebbed corridors, carrying a ghoulishly glam pumpkin for our exclusive Strictly Halloween photo shoot.
"Wolf of Walford" Davood Ghadami, and his devilish accomplices Debbie McGee and Gemma Atkinson soon get into the spirit of things as they pose for our boo-tiful snaps!
Here, Debbie McGee, Davood Ghadami and Gemma Atkinson talk Strictly Halloween…
TV Times: Are you excited for the landmark Strictly Halloween special?
Davood Ghadami: "Yes! It's Halloween on steroids, and it's what I've been aiming for all series. Part of you becomes an actor to get gritty roles and work with great people, but there's another side of you that just wants to dress up!"
Debbie McGee: "I always love watching the Halloween special because it's so different."
Gemma Atkinson: "Movie week was so fantastic and everyone said, 'You think this is good? Wait 'til Halloween!' So I can't wait to see what they've got up their sleeves for us. I love anything spooky."
Bewitching: Gemma's hoping for a terrifying 10 in Strictly Halloween!
TVT: Do you celebrate Halloween at home?
Debbie: "Well I do because my birthday is on Halloween – I am a real witch! I've had lots of Halloween parties and it's always been a big deal for our family. I used to do a lot of live broadcasts and magic shows on the night with my late husband, Paul [Daniels] too. He threw a huge surprise party for me once, a friend of mine dressed our house up with cobwebs, twinkly lights and pumpkins - the place was completely transformed."
Davood: "I love it! As kids we always got dressed up and tried to scare each other and now we drive my two little girls round to family's houses for trick or treating. They mainly love the idea of getting sweets!"
Gemma: "I used to join in when I was a kid, but now I'm one of those people who pretends they're out so I don't get trick or treaters!"
TVT: What scares you (apart from Craig!)?
Debbie: "I don't like rats because I had a friend who was bitten in bed by one once when she was staying on a farm. I'm not too bad with spiders but I don't like furry ones – I'm a bit of a scaredy cat when it comes to tarantulas."
Gemma: "I was that weird kid that used to have pet rats but the one thing I'm frightened of is snakes. I'd never harm one but if someone asked me to hold one I'd have to say no."
Davood: "I don't like ghosts, rollercoasters, horror films – that makes me sound boring, but I'm a control freak! I can't stand slugs either."
Happy howling: Davood's all out to impress the judges in Strictly Halloween
TVT: Are your families excited to see you doing so well in Strictly?
Gemma: "My mum is a huge fan of the show and my 13-year old niece loves it. Whenever the team do my hair and make up she always asks me to send her a picture."
Davood: "There was a confession last week at my house – my wife told me my daughters are obsessed with Jonnie Peacock and want to vote for him. They run around the house shouting his name. I didn't know quite how to take that, frankly – who needs enemies when you've got family like that! Luckily he's the loveliest bloke. Maybe his loved ones might vote for me…"
TVT: When are you at your bravest?
Davood: "I'm quite brave with animals. I used to have snakes when I was a kid and I'm not scared of spiders, I'm happy to fish them out the bath. When I met my wife at university she picked up a spider with her hands and I knew she was the girl for me!"
Debbie: "I love horror movies, I never used to when I was young but now I enjoy all the old hammy ones, like the Hammer House of Horrors."
Gemma: "I love anything that gets your adrenaline going – I've done two Sky dives, bungee jumping, swimming with sharks – I was scared but in a good way! Aljaz always tells me it's good to be frightened before our dances too."
Magical Debbie's scored highly this series
TVT: Would you spend the night at a haunted house?
Debbie:" I'd love something like that! I don't believe in ghosts, I'm not superstitious at all, so I think it's all a bit of fun. Having lived with a magician who did special effects for movies and musicals I learned a lot about how they make all those things happen. I enjoy trying to work out how they do the tricks."
Gemma: "I'd love to find anywhere that's haunted and walk round to see if I could see anything, I'm really into stuff like that, psychics and spirits. I believe when a person passes on they must go somewhere…"
Davood: "My parents live in a really old 16th century cottage and I was there on my own once. I was excited to have the place to myself but then I started hearing footsteps and seeing things behind me in the mirror. I didn't believe in any of that before but I'm 100% sure there was something in there with me… When I left home I bought a much newer house!"
Strictly continues on Saturday night at 6.35pm.
Photos by Dan Goldsmith.
Get the latest updates, reviews and unmissable series to watch and more!
Thank you for signing up to Whattowatch. You will receive a verification email shortly.
There was a problem. Please refresh the page and try again.