'Fix this!' Emmerdale fans 'gutted' over Joe Tate murder. And think he's ALIVE!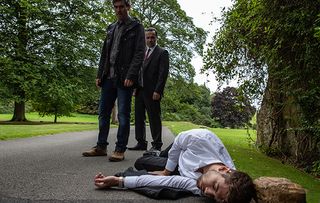 Many Emmerdale viewers wonder if Joe might come back from the dead...
Emmerdale viewers are in mourning over the shock murder of Joe Tate last night, with many hoping that he might somehow come back from the dead!
In shock scenes, Joe was bumped off by his right hand man, Graham Foster, under the orders of Kim Tate, who had vowed to hire a hitman famous for torturing his victims if Graham didn't do as he was told.
And fans rushed to Twitter to express their sorrow at seeing the back of Joe, while hoping that perhaps he might be alive after all.
One wrote: "I'm gutted!!!!! I hope he's not really dead and what the hell does out Graham see in Kim she's horrid!!!!!"
Another pleaded: "Emmerdale anything is possible in Soapland. Fix this! #notjoe "
And some simply won't accept that Joe is dead. "Still don't believe Joe is dead in Emmerdale! We didn't actually see Graham 'dispose of his body' so we'll see…" commented one. Another said: "Joe better not actually be dead!"
While it's true anything is possible in soapland, it does appear that Joe is sadly no longer with us. Asked if Joe is dead and gone, Ned Porteous, who plays him, replied: "Yes, and such a lot happened in those last episodes. You saw Cain strike Joe to the ground.
"It initially appeared he was dead and Graham appeared to think so, too, up until that pinnacle moment when Joe's finger twitched in the car. However, Graham knew he had to get rid of Joe.
"It looks like he was the one that ultimately ended Joe, but Cain unwittingly thinks it was him who killed him. Will Cain take the fall for it?"
Meanwhile, Ned says he's heading to America. "I've got management out there so I want to try my hand with the American casting system and then go on a little holiday. I will turn my phone off, go climbing, go camping, go fishing."
Emmerdale continues on ITV.
Get the latest updates, reviews and unmissable series to watch and more!
Thank you for signing up to Whattowatch. You will receive a verification email shortly.
There was a problem. Please refresh the page and try again.