Gareth Malone returns with The Naked Choir: 'I'm very competitive'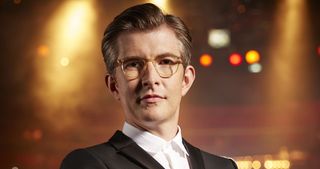 (Image credit: BBC/Twenty Twenty Brighton/Mark)
Gareth Malone (opens in new tab) is sitting in his office in the garden of his north London home staring up at the 'five shiny awards' he's bagged since first appearing on our screens in The Choir in 2006.
Six series, countless spin-offs, two children and one OBE later, his latest BBC2 series, The Naked Choir (opens in new tab) (Tuesday, September 22), is in a whole new league; a contest that pits eight singing groups against each other to find the best amateur choir in Britain.
TV Times talks to Gareth about how he's taking TV singing contests to the next level...
Why did you decide to work with established choirs this time around?
"I felt like I had formed enough choirs. I'm not saying I'll never form another, I wanted to do something more contemporary. 'Pimp my choir' wasn't exactly what I wanted – so I decided to work with a cappella groups."
Does the fact that they're experienced make it an easier task for you?
"I don't know if it does. Music is never easy, there's always work to be done. This is a group of people capable of great things so you're thinking, 'How do I get them to that point?' Like in The Great British Bake Off, how do they get their meringues to be better? Pride comes before a fall, so a lot of people will come back fighting because it's a contest. They do the choreography, choose the soloists and arrange the music themselves. I give them very little. And I'm not pulling any punches!"
Are you going all Simon Cowell on us?
"I don't feel that Simon Cowell and I are from the, erm… same sort of… area. He's an A&R person looking for what's going to sell and I'm much more nuts and bolts; I like to get my hands dirty. I'm very competitive, but no one's winning a million-pound record contract here, it's not that gladiatorial. They're allowed to leave with their lives."
So you couldn't ever be lured onto one of his shows?
"I'm not sure I could, having watched X Factor on Saturday, no! This isn't my attempt to do that, this is my attempt to do a contest as I see it. It's about ensembles working together and improving, not finding your big moment."
We bet you're still glad you beat Simon to Christmas Number One (when the Military Wives' single 'Wherever You Are' went head to head with The X Factor's Little Mix in 2011)
"It is rather nice to have beaten Simon Cowell. He did graciously tweet that he bought a couple of copies… I'm sure he could afford a couple more!"
You've tackled so many different communities - from the workplace to an all boys school – in The Choir. What have you found most challenging?
"The second series of Boys Don't Sing was tough – teaching in a boy's school for nine months, I lived and breathed it. That was before I had children so I obviously had far too much time on my hands! My wife, Becky [a teacher] has got the discipline down, but I'm not a pushover, at all. You realise quite quickly you've got to let them know who's boss."
Did you find your All Star Choir last year intimidating?
"If Jeremy Paxman was in it, maybe! But, no, they were very un-starry."
Have you continued to teach any of them?
"I think some of them are beyond hope. Mel Giedroyc did get in touch to ask for some tips when she sang the Mozart Requiem at her daughter's school. I pointed her in the direction of a decent website!"
But aren't you of the belief that anyone can sing if they put their mind to it?
"I'm pretty sure I've never actually said that, but I have heard people say, 'He's that guy who says that anyone can sing!'"
Do you want to set the record straight?
"Yeah. I don't know that everyone can sing. I certainly don't think that everyone can sing to a high level. It's not gifted to everyone. But everyone has the right to sing and will feel better for it."
You must be looking forward to going on a second tour with your choir, Voices, this autumn…
"I can't wait. There'll be some familiar faces, but also more experienced singers. They are sounding fantastic."
What do you lot do when you're not performing?
"Charlie Watts from The Rolling Stones once said that his life was 25 years of waiting around and two years of actually playing… you're on the tour bus the whole time."
Is it very rock 'n' roll?
"Oh, it's constant. Wall-to-wall herbal tea and R&R. I can't tell you any more, it has to stay on tour…"
Get the latest updates, reviews and unmissable series to watch and more!
Thank you for signing up to Whattowatch. You will receive a verification email shortly.
There was a problem. Please refresh the page and try again.