George Rainsford: Ethan is under pressure as Casualty's new clinical lead and Connie is not helping!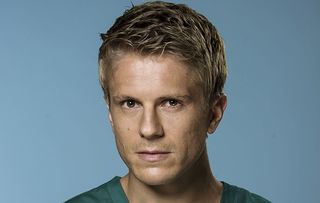 (Image credit: Alistair Heap)
Casualty star George Rainsford reveals doctor Ethan Hardy is in for a tough time as acting clinical lead…
It's a big week in Casualty for doctor Ethan Hardy. He's been newly appointed as acting clinical lead, after Dylan Keogh's resignation last week and while Connie Beauchamp recovers from cancer. Ethan has big shoes to fill – Dylan is an experienced consultant, which he isn't. And Connie has been steering the Holby ED ship for years.
Is Ethan in danger of tripping up and putting patients' lives, and the already-stretched ED staff's well-being, in danger? What's on TV caught up with talented George Rainsford to find out more…
What does taking on the role of acting clinical lead mean for him?
"Taking on the role of clinical lead in Connie's absence is a massive step up for Ethan in terms of his career. It's also taking him out of his comfort zone – he now has to deal with management and telling his peers what to do, which isn't something that comes naturally to him. He's got a lot of hurdles to get over!"
Is he blissfully unaware of these hurdles when he agrees to take the job?
"Yes he accepts it quite happily. Ethan's very friendly and chipper at the start. But quickly there's a lot of pressure put on him, particularly from the management side that you don't usually see in Casualty. He tries to run the ED in his own personal way but soon finds that he can't keep the staff happy, as well as the board, and deal with patients…"
How do Ethan's colleagues react when he announces the news of his promotion?
"Not particularly well! The last time Ethan did a day as clinical lead he struggled because he tried to do too much on his own. Consultants Dylan Keogh and Elle Gardner ended up tidying up the ED while Ethan performed an operation in the smashed-up estate agents!"
Connie makes an appearance in the ED this week too – is she supportive or does she cause additional stress?
"To have Connie breathing down his neck while he is replacing her only adds to the pressure Ethan's feeling. She's being treated upstairs so she's not even out of the hospital building!"
Is Dylan also a major cause for concern?
"This is a really stressful situation for Ethan to handle. Dylan is better qualified to be clinical lead but he's got a secret drinking problem. This week nurse Louise Tyler finds out and tells Ethan she's worried about Dylan's behaviour. So, suddenly, Ethan has to deal with something really difficult involving someone who is of higher status than him!"
Will Ethan dismiss Dylan? Find out in Casualty this Saturday on BBC1 at 8.20pm.
Get the latest updates, reviews and unmissable series to watch and more!
Thank you for signing up to Whattowatch. You will receive a verification email shortly.
There was a problem. Please refresh the page and try again.