Gogglebox's Lee and Jenny: 'A lot of people think we're mother and son... Or husband and wife!'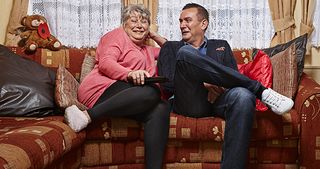 Lee and Jenny (opens in new tab) only joined Gogglebox in its fourth series, but the Hull-based friends have already become some of the award-winning Channel 4 show's most popular couch potatoes.
We caught up with them to find out a little more about them, head of the series' return on Friday…
Why do you think viewers have taken to you?
Lee: "Because we're the same on the TV as we are in the pub. We haven't changed at all."
Jenny: "We're just like your neighbours next door."
Lee: "I wouldn't like you living next door to me – you get on my nerves half the time."
You love each other really though, don't you?
Lee: "Deep down. We met when Jenny was running a pub years ago and we just clicked. We go everywhere together."
Jenny: "We're not just friends now, we're family. We know each other inside out."
Lee: "A lot of viewers think we're mother and son."
Jenny: "Or husband and wife, but I think they're just being polite."
Is it hard to watch TV normally without giving it the Gogglebox treatment?
Lee: "Yes, we can't do it any more. Last night I was watching Come Dine With Me with my partner Steve and he said, 'Shut up, you are not on Gogglebox now.' Jenny's daughter has told her off too because they can't watch programmes because she's commenting all the time."
Which stars would you love to have over to watch TV in the caravan?
Lee: "Sarah Millican."
Jenny: "Alan Carr's my favourite, but I'd love to have Lady C from I'm A Celebrity. Can you imagine giving her a cup of tea in a mug?"
Do you get recognised a lot?
Jenny: "Yes, they usually just say, 'Oh Jenny, you don't look as fat as you do on telly.' People want selfies too."
Lee: "Do you remember when I went for a wee at a service station and came out and you were standing with a couple waiting for me to have a selfie with them? I was still doing up my flies!"
Do they ask about your famous tin plate too [Jenny often talks about her plate on the show and is convinced it's an antique]?
Lee: "Oh that blooming plate. You'll set her off now. She thinks it'll go to Sotherby's or Christie's."
Jenny: "Everybody wants to know about my tin plate. One day it'll be like when Del Boy in Only Fools and Horses found that watch and became a millionaire. I won't share the money with Lee though; he has slagged it off so much."
What TV shows would you like to appear on?
Lee: "I'd love to have been on Dancing on Ice because I can ice skate."
Jenny: "I'd love to do The Great British Bake Off."
Lee: "You can't cook. She made mince pies once with meat, minced! It was awful; she didn't know there was sweet mincemeat."
Get the latest updates, reviews and unmissable series to watch and more!
Thank you for signing up to Whattowatch. You will receive a verification email shortly.
There was a problem. Please refresh the page and try again.