Gogglebox's Scarlett Moffatt: 'I want to be the female Alan Carr!'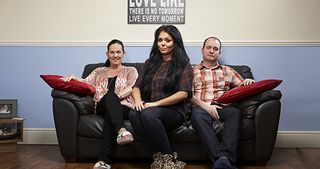 We love Leon in his recliner chair, Steph and Dom with their drinks cabinet and Sandra drowning in bling, but the star of this year's Gogglebox (Channel 4, Friday) has undoubtedly been inspired 23-year old Scarlett Moffatt from County Durham.
Candid as ever, Scarlett puts the world to rights in an exclusive interview with TV Times…
How do you feel about all the attention you're getting?
"It's all a little bit crazy to be honest! I do love the show. It's our third series this year, but it's only now that I feel we're a proper Gogglebox family. What's weird is when people come up to me and quote something I've said. I don't think when I'm speaking – half the time we forget what we've all said until we see the episode!"
What are your thoughts when you watch yourself on TV?
"Sometimes I think, 'Why on earth would I say that?' or I'll be having a bit of a bitch and think, 'Oh God, no Scarlett, it could be shown on TV!'"
Some people think you're a little be scary...
"Dermot O'Leary said on Twitter he was a bit scared of me, but I'm not scary, I'm just a bit too honest!"
Are some of your one-liners prepared in advance?
"I wish I could think like that – it's say what you see, like Catchphrase!"
Have you always had a knack for making people laugh?
"I used to be quiet at school, but once I got to college I became my own person and I am the joker in my group of friends now.
"To be honest I've always thought my mum and dad were just laughing at me, but I like to think they're laughing with me now!"
Has your relationship with your parents changed since you signed up for the show?
"It sounds bad, but we didn't really do much together before and Gogglebox has brought us closer together. We do more family stuff now.
"I'll tell you what does my head in though, everywhere I go people ask where my mam and dad are – we do have our separate lives! Literally I'll be in a club in Newcastle and people will be like, 'Scarlett where's your mam?' At home probably, I don't know!"
You also have a little sister, Ava, who stays upstairs while the show is being filmed...
"It's past her bedtime and we don't swear around her so it would be a different Moffatt experience if she were there! I'm hoping she can join us when she's older because she's hilarious."
What do you do when you're not filming?
"People tweet me to tell me I should try getting a job but I've got one, I work full time as a disability advisor and I get up at 6am every morning. I've got a degree and everything, it just doesn't come across like that!"
Would you be interested in launching a TV career of your own?
"I would never part from Gogglebox and I wouldn't do Big Brother, but I'd love to be the female Alan Carr – my life would be complete then."
Who would you most like to interview?
"Ant and Dec because they're my favourite people on telly, they're just typical Northerners and they don't try too hard. I love Sarah Millican, too, and not just because she's a Geordie! She isn't afraid to admit she eats cake and I like that in a person.
"I wouldn't have Michael McIntyre on the show, he annoys the life out of me – he just runs about with floppy hair!"
Get the What to Watch Newsletter
The latest updates, reviews and unmissable series to watch and more!