'I'd love to do Strictly or Celebrity Bake Off!" says Hollyoaks star Anna Passey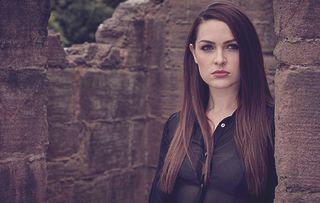 (Image credit: Graham Morris)
Hollyoaks actress Anna Passey tells Soaplife about working on the Channel 4 soap and what she gets up to when she's not playing dysfunctional Sienna Blake…
When she's not playing dysfunctional Sienna Blake in Hollyoaks, we're used to seeing actress Anna Passey glammed up on the red carpet but she says she's happiest when she's not wearing make-up or, er, shoes.
What's the story?
"My mum says that's the feral me," Anna laughs as she chats to Soaplife. "I feel most comfortable when I'm a bit scruffy – in my gym gear, bare-faced with bare feet, and with my hair loose or scrunched up. My other 'setting' is red carpet glam and, to be honest, there's not much in between with me. I don't do the glammed-up, red-carpet look all that often so when I do, it's great fun and I really enjoy it. But I think the low-maintenance, casual look is the real me…"
What's happening in Hollyoaks? See the latest soap storylines
Anna Passey's chat with Soaplife about life in and out of Hollyoaks…
Soaplife: What do you like doing when you're not working?
Anna Passey: "Anything sporty. Boxing is my latest obsession and I've been training at a boxing gym for about a year. I also enjoy doing weights, horse riding and yoga. I just love yoga and it's become very important to me. It's a great way to unwind after a long day's filming."
S: You've been in Hollyoaks for almost six years – are you still enjoying it?
AP: "I love it! I was only ever meant to be in the show for a year but then I was offered another contract. I never expected to still be here several years later but they always seem to come up with gripping storylines for my character. I love Sienna and can't imagine putting her to bed yet."
S: Are you still dating Nick Rhys who played Lockie Campbell in Hollyoaks?
AP: "Yes. We've been together getting on for five years now. Nick's in Los Angeles at the moment so it's rather a long-distance relationship. It's not always easy with him on the other side of the world but that's often what you get when you date another actor. Maybe I should have chosen a plumber or something – only joking! I've just been out to California to see him actually – and to catch up with other friends who live there. I had a great time."
S: Who are your best mates in Hollyoaks?
AP: "Jess Fox who plays Nancy is my real life next door neighbour and bestest friend. When I first joined the show, I had a huge storyline with her and she took me under her wing and showed me the ropes. Actually, though, all of us girls are pretty good friends. Jeremy Sheffield who played Sienna's dad really was like family to me and although he left Hollyoaks some time ago and is now back in London, I still see him as often as I can."
S: Are you anything like Sienna in real life?
AP: "Obviously, I'm no child kidnapper but actually we do share a few traits. I'm a bit OCD like Sienna. I catch myself putting coasters under people's drinks and tidying around stuff."
S: How did you get into acting, Anna?
AP: "I just always wanted to do it. From a very early age, I loved watching films and my parents took me to the theatre and cinema quite a lot. I loved drama at school and wanted to pursue a career in it but the deal with the parents was that I went to university and got a degree in something else first. I studied English Literature which isn't a million miles away from drama. I studied plays as part of my course and while I was at uni, I worked at the Fringe festival in Edinburgh. After that, I went into Hollyoaks. I've been very lucky."
S: Would you ever do a reality show?
AP: "Umm, it's not really my bag but the one reality show I would like to do is Strictly Come Dancing. I'd love to learn how to dance properly. You look at the contestants' journeys on Strictly and it's amazing. They get into great shape, have the best fun and all seem to love it. I also love making cakes so the celebrity Bake Off would be another reality show I'd consider."
Hollyoaks continues weeknights at 6:30pm on Channel 4
Get the latest updates, reviews and unmissable series to watch and more!
Thank you for signing up to Whattowatch. You will receive a verification email shortly.
There was a problem. Please refresh the page and try again.