Hollyoaks spoilers: Hunter McQueen is out for revenge on murderer Mac Nightingale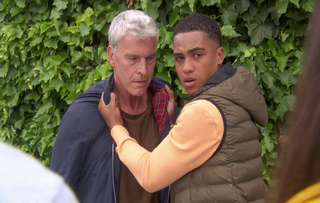 Hunter is left reeling by the reappearance of murderer Mac. How far will Hunter go to avenge the death of his ex-girlfriend Neeta?
There's a nasty shock in store for Hunter McQueen and his girlfriend Asha Kaur, when they return home after their holiday in Brighton and discover Mac Nightingale is back in the village.
Hunter still has a score to settle with Mac for leaving his ex-girlfriend, and Mac's ex-fiancee Neeta Kaur to plunge to her doom during the explosion at Hollyoaks High last year.
To complicate matters, Hunter is now dating Neeta's sister Asha, and the pair have plans to leave the village and move to Brighton for college. But will Hunter's deadly vendetta against Mac put those plans on hold?
Theo Graham, who plays Hunter, reveals what's in store as his character comes face-to-face with nasty Mac again...
What happens when Hunter discovers Mac is back in Hollyoaks Village?
"Within seconds, he's fired up and dare I say it, he has never been more determined to get his own back on Mac as he is during this upcoming week!"
How is Hunter's relationship with Asha going?
"Very well indeed! It's nice to see Hunter smile and be genuinely happy, despite Asha being his dead girlfriend's sister. I really enjoy playing happy Hunts."
How has Asha helped him in the past few months?
"I think it's the fact that Asha is the closest thing to Neeta, not that he's settling for her simply because Neeta died. The feelings are genuine, but he does see the resemblance in their personalities and looks. Also, they both lost an extremely important person in their life, so I feel like they've both been there for one another."
How was it for Hunter seeing Mac after all this time?
"Hunter knows what Mac is truly capable of, so he's definitely anxious. He's angry when he finds out that Alfie and Cindy have accepted him into their home, so he's even more determined to show everyone what he really is."
Who are you closest to on set?
Malique Thompson-Dwyer, who plays my onscreen brother Prince. We came into the show together and have grown very close over the course of two years. We will always be best mates."
What is Hunter's next adventure with Asha?
"Whilst away, they both decide that they want to make a real go of things. To do so, Hunter decides to move to Brighton to be closer to Asha, whilst also attending art college. However, now that he's seen Mac back in the village, will he still go through with it? Or will he stay in the Hollyoaks village to finally show everyone what Mac truly is?"
Don't miss Hunter going head to head with Mac on Hollyoaks, weeknights at 6:30pm on Channel 4 with the next episode at 7:00pm on E4
Get the latest updates, reviews and unmissable series to watch and more!
Thank you for signing up to Whattowatch. You will receive a verification email shortly.
There was a problem. Please refresh the page and try again.