Hot Enough for June (1964) | Dirk Bogarde's lively Iron Curtain comedy thriller now available on Blu-ray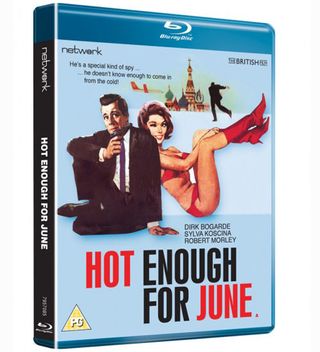 SYNOPSIS In Ralph Thomas' lively 1964 spy comedy thriller, Hot Enough for June, Dirk Bogarde (opens in new tab) plays an out-of-work author who gets plucked out of the dole cheque and sent behind the Iron Curtain to work as a secret agent based on his the ability to speak Czech. Sylva Koscina is his glamorous chauffeur, Robert Morley is the espionage chief (and master of irony) who sends him on the assignment, and Leo McKern, John Le Mesurier and Roger Delgado are the familiar faces showing off their versatile acting chops.
THE LOWDOWN Bogarde (filling in for Tom Courtenay who pulled out at the last minute) gives his usual polished performance in the James Bond spoof that's more of a thriller than straight-out comedy, and also gets to share a rather steamy love scene with the sultry Sylva Koscina (opens in new tab) (who was once in line for the role of Tatiana Romanova in the real Bond adventure, From Russia With Love).
Set in Prague (but with Padua, Italy standing in for the Czech capital), the film is an adaptation of Lionel Davidson's 1960 debut novel The N (opens in new tab)ight of Wenceslas (opens in new tab) by screenwriter Lukas Heller (opens in new tab), who penned Whatever Happened to Baby Jane? the previous year. This was one of series of back-to-back espionage films directed by Ralph Thomas (opens in new tab), who is better known for his classic 'Doctor' series of comedies, also starring Bogarde.
THE UK BLU-RAY RELEASE Hot Enough for June (PG) is out on Blu-ray (opens in new tab), as part of Network Distributing's The British Film collection, and is presented in a High Definition transfer from original film elements, in its as-exhibited theatrical aspect ratio. Special features include original theatrical trailer, image gallery and original promotional material (on pdf).
Discuss the film on: TWITTER: #TheBritishFilm (opens in new tab) FACEBOOK: facebook.com/TheBritishFilm (opens in new tab) http://youtube.com/v/tGKYj5odhIM
Get the latest updates, reviews and unmissable series to watch and more!
Thank you for signing up to Whattowatch. You will receive a verification email shortly.
There was a problem. Please refresh the page and try again.