Is the BBC's steamy drama Versailles 'porn dressed up in a cravat'? No, says producers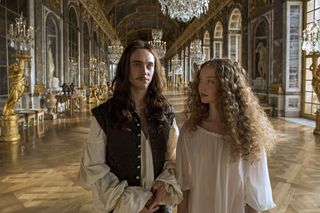 (Image credit: Canal +/ BBC)
The French producers of steamy TV period drama Versailles have defended its racy content, saying it is an accurate portrayal.
Producer Claude Chelli said he was surprised that British viewers were so shocked by the nudity and sex scenes because French audiences had not batted an eyelid.
Versailles follows the debauched exploits of King Louis XIV (played by George Blagden (opens in new tab)), the head of the 17th century French court.
With a £24million budget, twice that of ITV's Downton Abbey (opens in new tab), the show had nearly two million viewers for the first two episodes.
Over 10 episodes of the first series on BBC Two, there are said to be 23 sex scenes with six in episode one alone.
The show was described as "porn dressed up in a cravat and tights" by TV watchdogs before it aired in the UK.
Assistant producer Aude Albano is reported by The Express to have said: "In France we have all been studying Louis XIV since we were at school and we all know that sex and power with Louis XIV really went together.
"We wanted to be faithful to the story we were telling and Louis XIV was a womaniser."
Claude Chelli added: "There is no gratuitous sex. It is part of his life."
He said the French were not shocked by the content when the first series aired last year, adding: "We weren't prepared for the reaction of the UK viewers."
Versailles (opens in new tab) continues with episode three on BBC2, Wednesday, June 15, 9.30pm.
http://www.youtube.com/watch?v=cv6BikgnrTQ
Thank you for signing up to Whattowatch. You will receive a verification email shortly.
There was a problem. Please refresh the page and try again.