Joe Thomas and Simon Bird: 'We've still got a lot to prove'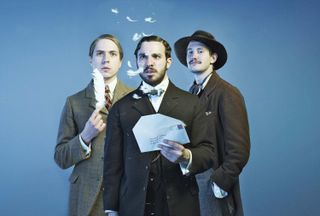 After the huge success of The Inbetweeners, two of its stars Simon Bird and Joe Thomas are about to launch their new six-part sitcom Chickens on Sky1. The lads tell What's On TV all about life after he Inbetweeners, as well the new sitcom and the troubles you can encounter wearing tweed and learning embroidery...
Chickens (opens in new tab) is set in World War One. Does that mean you think war is funny?
Simon: "I don't think we do. We didn't think, 'The First World War was a great period, let's set a comedy then.' It was more practical. The first is that we're men - sort of. We wanted the other main parts to be female so it seemed like a funny idea to set it in that period."
Joe: "It's about the men who stayed behind and didn't fight. Only three men are left in a village and all the women hate them. That's pretty much the gist of it. We're not obsessed with history. We were trying to find a situation where you'd get these three men in this particular predicament. It's like if you wanted to do something about the miners' strike, you'd have to have to do it in the Eighties. It doesn't men you're obsessed with the Eighties."
Was this ever a real situation during World War One then?
Joe: "At the beginning of the war, they needed a lot of men, so conscription was very strict. A few months into the war, a lot of people who were too young, too old or too infirm were kicked out. So it was actually quite hard to get into the First World War army. Flat feet was a legitimate excuse to get out of the war because you can't march with a pack if you've got flat feet!"
Were you worried sitcom set in this war is going to be a bit too much like Blackadder Goes Forth (opens in new tab)?
Simon: "There's lots of amazing literature from that period that we drew on, but we wanted to steer clear of comedic sources, like Blackadder. We were more influenced by things like Arrested Development, which has running jokes, and Peep Show.
Joe: "It is hard to be funny in historical costume. On the first day of filming, I can remember thinking, 'Is this too much tweed? Tweed isn't funny'. But it's been shot in a modern way - obviously modern, because it's not 1914 any more - that hopefully makes it funny."
Rather than fighting for your country, your characters Cecil and George take up teaching and embroidery. How did you hone your skills?
Joe: "Simon went away for three years to a llama farm in the Himalayas. Now he will only pull wool from a chief llama to get the highest quality."
Simon: "Joe did teach after university."
Joe: "I did some private tutoring. I'm still available. Maths, history, science... it depends how accurate you like your science. If you like it straight from the imagination, I'm your man."
Chickens piloted on C4 two years ago, but it's moved to Sky. How come C4 didn't want it?
Joe: "We did the pilot as part of C4's Comedy Showcase. Then they said they didn't want any more Chickens or any more Comedy Showcases from anyone. So we were a bit sad but we went back and carried on writing, then Sky came along and said they'd do it. We had a lot of freedom which was great because it made us feel we really shouldn't stuff it up because they'd put their faith in us not to."
Simon: "I think their reason for not commissioning it was that Inbetweeners was on constant repeat on C4, I'd just done Friday Night Dinner and Joe was in Fresh Meat. So they probably didn't want four shows with us in them!"
You live together in Chickens. Have you ever lived together before?
Joe: "We did all live together at university, with [Chickens co-writer and star] Jonny Sweet. There were three of us, but we had a two-bedroom flat so I said I'd have the living room as my bedroom. It didn't really work. I'd come home and they'd been watching TV in my bedroom. I had nowhere to go. I had to hang out in the bathroom instead."
Could Chickens ever be as successful as The Inbetweeners (opens in new tab)?
Simon: "It's so hard to judge success. We didn't think The Inbetweeners would get anywhere. It was the first comedy E4 had done. We thought, 'It's only E4. Let's not get carried away.' We thought maybe a few thousand people would watch it."
Joe: "I didn't think anyone watched Inbetweeners at first apart from people who somehow knew my mum or dad. The only people were my mum's colleagues or worked for my dad. I thought, 'That doesn't count. I want some total strangers who I don't know.'"
Simon: "It was definitely a slow burner. Not many people watched the first series. We didn't know if it was going to get recommissioned. Joe went back to tutoring. I went back to my PhD. James [Buckley] fitted kitchens. Blake went to work at the scare chamber at Madame Tussauds. That's true. The buzz only really started during the second series."
Joe: "That's why there aren't enough jobs in this country. The Inbetweeners were taking them all!"
Why bother writing your own sitcom if you've already been in such a classic one?
Simon: "Although we loved every minute of The Inbetweeners and it's made us semi-famous, I think we've still got a lot to prove. Any comedian wants to put their own sense of humour together."
So, is there going to be a second Inbetweeners movie?
Simon: "Yes, we're doing another Inbetweeners movie. People say, 'Oh, just do another one.' They don't realise it takes eight months for the writers to go away and work on the script. I also think us actors wanted just a little bit of a break. But, yes. It's going to happen. That's all I can say about it really!"
Chickens starts on Sky1 on 22nd August at 9.30pm. The first episode will be available exclusively from Sky's On Demand service from 16th August...
TV Content Director on TV Times, What's On TV and TV & Satellite Week
I'm a huge fan of television so I really have found the perfect job, as I've been writing about TV shows, films and interviewing major television, film and sports stars for over 25 years. I'm currently TV Content Director on What's On TV, TV Times, TV and Satellite Week magazines plus Whattowatch.com. I previously worked on Woman and Woman's Own in the 1990s. Outside of work I swim every morning, support Charlton Athletic football club and get nostalgic about TV shows Cagney & Lacey, I Claudius, Dallas and Tenko. I'm totally on top of everything good coming up too.
Get the latest updates, reviews and unmissable series to watch and more!
Thank you for signing up to Whattowatch. You will receive a verification email shortly.
There was a problem. Please refresh the page and try again.