John McEnroe: 'Andy Murray is extremely unlikely to win Wimbledon this year'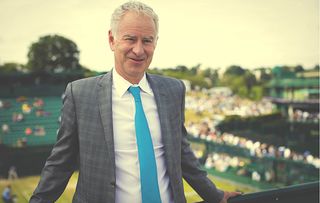 (Image credit: BBC / Jonathan Ford)
The BBC commentator and SW19 legend talks us through Andy's chances, and reveals his ones to watch
Who better to guide us through this year's Wimbledon hopefuls than three-time champion and BBC commentator, John McEnroe?
Up in the commentary box we're guaranteed a good show with Mac at the mic, but what about on the court? Will the Big Four dominate again or will a young talent serve up a shock?
Here John McEnroe explains why it's very unlikely we'll be watching Andy Murray win Wimbledon and who might claim the title...
Can Andy Murray make a winning Wimbledon comeback?
Andy Murray suffered a nasty hip injury last year that saw him crash out of Wimbledon. After a shaky comeback at Queens, his appearance at SW19 is still in doubt. "If he comes back, it would be extremely unlikely he could win this time," admits John McEnroe, speaking before Andy's exit at Eastbourne.
"To be able to take such a long time off, for something as difficult as a hip issue, and then step up and win a tournament… you can practice as much as you want, but I don't know how you can do that, especially as a lot of Andy's success came down to the fact he was a great mover and athlete. Stranger things have happened though, it's not impossible. If the injury is fully resolved then he could definitely win again in the future – he'll be a threat for the next five years."
Britain's rising stars
Tennis pundits are raving about British number one, Kyle Edmund [who dumped Andy Murray out of Eastbourne], who was born in South Africa but has lived in Yorkshire since he was three. "Kyle is a legit top 10 player but I don't look at him the way I looked at Murray when he was starting out," warns John to TV Times. "He has made some very nice progress and should be very proud, but in order to make it over the finish line he's going to have to improve."
And what of last year's Wimbledon semi-finalist Johanna Konta, who has recently suffered a dip in form? "From what I see, it doesn't seem like she's playing with much confidence, and without believing in yourself there's no way you can do well," says John. "She needs to get some more wins under her belt and remind herself how well she did in 2017!"
Wimbledon darling: Roger Federer
In 2017, Roger silenced his critics by winning a record-breaking eighth Wimbledon title – more than any other man and just one behind Martina Navratilova. 20-time grand slam winner Roger is now 36, an age where most players are drawing their pension, but John says he's still the one to watch. "He's definitely the favourite, he's positioned himself beautifully and missed the French Open like last year to make sure he's ready. It's a risky strategy but he's proved he can do it," he tells us. "Roger's is the greatest tennis story in the last 40 years – he has won three of the last six majors after not winning any for almost five years, it's amazing."
Can Nadal win again on grass?
Tennis fans will know that Rafael Nadal is still proving unbeatable on clay, having just won a historic 11th victory at the French Open in Paris. But the two-time Wimbledon champion is struggling to make the same impact on grass.
Still, with Roger and Rafa sharing the past six grand slam victories between them, John wouldn't write him off. "Nadal has proven to be very hungry, he wants it. He's not as comfortable with his movement on grass and the other guys feel more confident coming up with a game plan against him because he has greater anxiety," he explains. "So it's more difficult him, but he's also had some bad luck at this tournament. You really can't count him out – he's been in five Wimbledon finals!"
Will Mama Serena Williams be victorious?
"Serena has nothing to prove but coming back from having a baby might be a motivation, showing she can still win," says John. "She wouldn't be the first woman to do it, but she would be the first at her age [36], which makes it a bit tougher. It's certainly within the realm of possibility – in some ways I'd be surprised if she didn't do it."
New kids on the block
In the past eight years only two players have managed to win a slam outside the Big Four (Federer, Nadal, Djokovic, Murray), but this remarkable era must end soon. Many are backing Germany's Alexander Zverev (known as Sascha), 21 and Austria's Dominic Thiem, 24. "I'm not sure if either of them are ready to win Wimbledon yet, but they're making inroads and getting closer," says John. "For me the one to watch is Denis Shapovalov from Canada. He's 19 and I like him, I believe he's the one who'll break out and do big things. He's one of the rare ones who has the physical and mental attributes and can also entertain."
Is Djokovic down and out?
A couple of years ago, Serbian powerhouse Novak Djokovic looked absolutely unstoppable, winning four grand slams in a row in 2015/16. But after injuries, time off the court and seemingly becoming jaded with the sport, his future is looking hazy. He hasn't won a major title since June 2016. "I don't know what to think exactly," admits John, in a rare moment of uncertainty. "It's unpredictable. He's one of the all time greats and only 31, but he's lost that fire, the look in his eye, I don't see it any more. I hope it hasn't been extinguished."
Wimbledon will be shown on the BBC.
Get the What to Watch Newsletter
The latest updates, reviews and unmissable series to watch and more!