Julie Hesmondhalgh: 'They cast me as the rape victim in Broadchurch to show it can happen to anyone'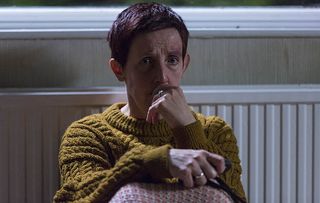 (Image credit: Colin Hutton)
Julie Hesmondhalgh explains her role in the 'twisted and weird' new series of Broadchurch
Julie Hesmondhalgh is one of the smiliest actresses we know – even her bluer-than-blue eyes look to be constantly laughing. But she gets serious as she tells us about her latest role, playing rape victim Tricia in the third series of ITV's award-winning crime drama Broadchurch (Monday, February 27).
"TV has this unfortunate tendency to portray a rape victim as a young girl running through a wood – there's often a slight titillating edge to it which is really distasteful," she told Soaplife magazine.
"Sexual violence is not an act of sex, it's an act of violence. The programme makers were very keen to show that it can happen to absolutely anyone. I think that's why they cast me – to show that an ordinary, middle-aged woman is as likely to be the victim of rape as anyone else."
Tells us more about your character in Broadchurch… "Tricia's an average woman in her forties. She's divorced with a grown-up daughter and she works in a farm shop, alongside her best mate, who's played by Sarah Parish. Her boss is played by Lenny Henry."
The series opens with Tricia clearly in state of deep shock, having been raped. How did you get into that head space? "It starts with the writing – it always does. I also did a lot of research. I watched a couple of documentaries and got a lot of help from The Survivors Trust. I also spoke to the people at Rape Crisis and they told me that the victims of sexual violence react in different ways. Some, like Tricia, are in deep shock while others seem fine on the surface ,but are bottling it all up. Ultimately I trusted my instincts and tried to imagine what it must be like to be in that situation."
DS Ellie Miller (Olivia Colman) and DI Alec Hardy (David Tennant), seem very sympathetic... "That was another thing we wanted to get across. Victims of sexual assault are now treated very differently to the old clichéd idea of them being taken to a busy cop shop, hustled into a back room, and examined by an unsympathetic policeman and not taken seriously. Things have really changed. Victims are believed and treated with the utmost understanding and sensitivity, like the way Ellie treats Tricia. You'd want someone like Ellie with you in a situation like that."
Are there further rapes in the series? "I can't tell you that, I'm afraid, but I will say that things get quite twisted and weird, and all is not what it seems. Of course it's not, it's Broadchurch! I think it's really interesting that this is a sexual assault whodunit rather than a murder. With all the murder dramas, as an audience we don't feel it like we do a violent sexual assault. The dead person gets forgotten about, but in this Broadchurch Tricia is a constant reminder of what happened as we see her struggling to move forward."
You've done some fantastic work since leaving Corrie. Were you ever worried jobs wouldn't come to you because you played Hayley for so long? "Not really, although when I first decided I was going to leave the Street I did kind of wonder what would happen. I figured I might end up doing regional theatre and the odd bit of TV, but I was fine with that. But then when Coronation Street gave me that amazing exit storyline, I felt things shift and I thought that it might be a springboard into more high profile work. I've been very lucky."
Do you still watch Corrie? "Of course. I think it's right that Roy didn't marry Cathy. Hayley would have been happy that Roy found love again, but Roy being Roy will always consider himself married to Hayley."
What do you like doing when you're not working? "I've got a small theatre company in Manchester that I set up a year ago with friends. It's called Take Back. We put on scripted responses to political events, and work with fantastic local actors and writers. I enjoy walking my dog and, as a mum of two, I'm constantly ferrying my kids around to swimming, scouts or whatever!"
Broadchurch, ITV
Interview: Alison James
Get the latest updates, reviews and unmissable series to watch and more!
Thank you for signing up to Whattowatch. You will receive a verification email shortly.
There was a problem. Please refresh the page and try again.