Who played Karen Taylor's MS contact Darren in last night's EastEnders?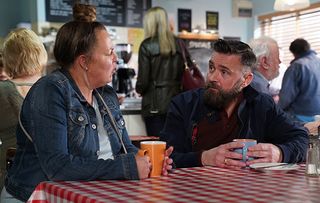 (Image credit: BBC / Kieron McCarron)
EastEnders saw Karen Taylor meeting up with MS support group leader Darren. But who is the actor who plays him?
In last night's EastEnders Karen Taylor met up with the leader of a local MS support group, Darren, in a bid to help a struggling Dinah. Ever since MS sufferer Dinah admitted she was planning to end her own life, Karen has been determined to talk her round.
Despite encouraging Dinah to have hope, even appealing to Dinah's responsibility as a mum to Bailey didn't work. Confined to bed and feeling desperately low with a bout of pneumonia, Dinah insisted that Bailey would have a better life if she didn't have to be her carer.
Karen shared her concerns about Dinah's mental health with her nurse, who agreed to arrange counselling. But he also put Karen in touch with an MS sufferer and support group leader, Darren.
When Karen met up with Darren she was buoyed by his positive attitude. He explained that he has had many low points but attending support groups and making plans with friends had put him back on track.
With Darren's encouraging words in mind, Karen was left feeling hopeful that she could finally get through to Dinah.
Darren is played by actor, dancer and presenter Kris Saunders, who flagged up on Twitter that he was looking forward to his big scene in EastEnders :
A wheelchair user, Kris is a motivational speaker and he founded wheelchair fitness company Wheely Good Fitness.
But will Darren be able to help Dinah or has Karen run out of options to save her life?
Get the latest updates, reviews and unmissable series to watch and more!
Thank you for signing up to Whattowatch. You will receive a verification email shortly.
There was a problem. Please refresh the page and try again.