Kate Beckinsale on her return to British TV in The Widow tonight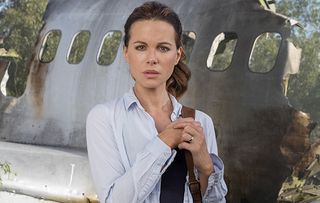 (Image credit: Photos By: Coco Van Oppens Photo)
It's been a while since Kate Beckinsale was seen on British television. But she's been lured back to Blighty to star in The Widow, a new drama from the creators of The Missing, which kicks off tonight on ITV at 9pm
In The Widow, Kate Beckinsale plays Georgia Wells, a woman struggling to cope with her husband's death in a plane crash in the Democratic Republic of Congo.
Three years on, however, she is stunned to catch a glimpse of someone who looks very like him in a piece of news footage. Haunted by the notion that he might still be alive, she embarks on a one-woman mission to Africa to uncover the truth.
Here, Los Angeles-based Kate Beckinsale, 45, talks about her African adventure in The Widow and what she misses about life in the UK...
What was it about The Widow that tempted you back across the Pond?
Kate Beckinsale: "The writers, Jack and Harry Williams [who also scripted The Missing and Baptiste] are really interesting, and it was intriguing to receive the first few episodes and think: 'I wonder what happens to this woman?'"
How would you describe your character, Georgia?
KB: "She has experienced blow after blow, and begins the story in an incredibly vulnerable state of retreat. She has moved to a remote area of Wales where she doesn't interact with other human beings much. She's clearly depressed and at a crossroads in her life."
How does she end up in Africa?
KB: "By chance, she sees someone she thinks is her husband on a TV news bulletin about rioting in the Congo, where he was employed as an aid worker. But he has supposedly been dead for three years! Trying to figure out what that means, she goes on a journey to Africa – and she's also partly coming out of this frozen state that she has been in."
Does she have any doubts about what she's seen?
KB: "When somebody has lost a loved one, they often have that experience where think they see them, or have a very intense dream in which they're still alive. It's happened to me – for a split second you think you see them. So in the beginning there's this nagging doubt, but she can't live with the uncertainty, even though it's desirable to stay safe and reclusive."
This is a tense, dark thriller. How did you lighten the mood on set?
KB: "The camera department were quite naughty, and pranked me a lot. One time they put a fake dog poo in the glove compartment of my car, just to see what my reaction would be. Or I'd open the boot and be rummaging around and, there would be a toy snake in there. We did actually have a snake wrangler on set, so it wasn't totally unlikely that a snake could have got in there!"
How was it filming in wintry Wales, especially after sunny South Africa?
KB: "It was really cold. I was wearing about eight pairs of trousers and thinking: 'I'm going to die of hypothermia!' But I've always had an appetite to film in Britain, it's just that I haven't been asked very often, lately. I'm always dying to work here."
Living in LA, what do you miss most about home?
KB: "Marks & Spencer and black cabs! But mostly, everyone having the same references that you have. And a certain sense of humour, particularly in men. I love that English men have a kind of self-deprecating humour about themselves. It's really healthy."
Do you keep up with British TV?
KB: "Your tastes change when you're homesick. For instance, there's an English shop in LA, where you can buy food you'd never buy in England, like bag of flying saucers or some Instant Whip. It's the same with television. You suddenly find you've watched every episode of Loose Women!"
The Widow starts on ITV on Monday 8 April at 9pm
Ian writes about TV and film for TV Times, What's on TV and TV & Satellite Week magazines. He co-hosts the weekly TV streaming podcast, Bingewatch.
Get the latest updates, reviews and unmissable series to watch and more!
Thank you for signing up to Whattowatch. You will receive a verification email shortly.
There was a problem. Please refresh the page and try again.