Could Keanu kill Phil Mitchell? EastEnders star Danny Walters: 'We still don't know what Keanu is really capable of'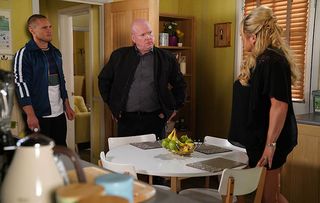 (Image credit: BBC / Kieron McCarron)
We've all been thinking Keanu is the one in danger, but might it be the other way round?
EastEnders fans have been predicting that Phil Mitchell will kill Keanu Taylor when he discovers the young mechanic has been having an affair with his wife, Sharon. However, might there be a massive twist in the tale? Could Keanu be the one doing the bumping off?
Speaking to The Sun, Danny Walters reveals we could be about to see a darker side to Keanu and perhaps he might not be the push over Phil imagines. Keanu has certainly shown his passionate side - could that cause him to be violent in defence of the lady he loves?
Talking about the probably clash with Phil, Danny Walters said: "There's a lot at stake and they both know the repercussions and they're both very aware of what they're doing.
"There's still a lot to find out about Keanu with his background and we still don't know what Keanu is really capable of.
"We do know Phil Mitchell's reputation but we don't know Keanu's reputation in full yet."
Wow, perhaps Phil better watch out! And Danny added that Keanu was so in love with Sharon "he's not thinking straight, he's not thinking logically".
Meanwhile, Danny, who's made a big impact on EastEnders since he joined the show last June, revealed that he was pleased at the reaction the dramatic storyline has had.
"People really like Keanu and Sharon. They're really behind them and they quite like their relationship. It's been really positive and we've had lots of positive reaction from viewers."
We now just have to wait to find out what happens when Phil finds out about what's been happening between the pair…
EastEnders continues this evening on BBC1.
Get the latest updates, reviews and unmissable series to watch and more!
Thank you for signing up to Whattowatch. You will receive a verification email shortly.
There was a problem. Please refresh the page and try again.