Kevin Bacon: Amazon's I Love Dick is a 'very unusual kind of love triangle' (VIDEO)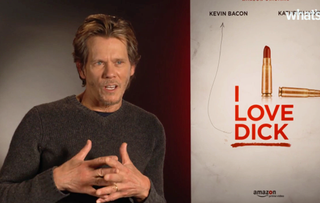 Hollywood star Kevin Bacon chats about playing an enigmatic cowboy artist in new Amazon Original comedy series I Love Dick
US movie star Kevin Bacon doesn't think his 'uncomfortably real' new adult comedy series I Love Dick could have been made anywhere else than Amazon Prime.
I Love Dick is an eight-part half-hour series about an intellectual New York couple (Kathryn Hahn and Griffin Dunne) who move to a small town, Marfa, Texas, to take up an arts fellowship and fall under the spell of cowboy artist Dick (Bacon).
Kevin told What's on TV it's a very usual kind of triangle.
"The show is about a triangle of a couple whose marriage is struggling a little bit, at least their passion for each other is on the wane and they go to this small town and meet this kind of iconic, wannabe cowboy artist," he said. "In this small town he's kind of a superstar and first the woman develops this obsession with him, and then the man, and their obsession with him ignites the desire between them."
But viewers should not be expecting some kind of broad, sex comedy. Despite the double meaning of the title, it's definitely not a Carry On comedy and it's based on a feminist novel written by Chris Kraus in the mid 1990s.
Kevin explained: "I think that it's not a comedy in the sense of set up joke, set up joke, it's not zany, it's not Benny Hill. It's a comedy that we worked really hard on making things... uncomfortably real, that includes love and desire and sex and art. Art is a very big theme in the show."
Watch Kevin describe how his wife and daughter convinced him to sign up for I Love Dick:
He joked that the title was an online minefield. "Even doing a search, if you're in the office, it goes into your search history, I Love Dick, you never know what's going to pop up..."
The adult themes are real, however, and Amazon Prime was the only place that director Jill Soloway (Transparent) could have made this fully realised adaptation of the novel.
"I don't think we could a network version of the show. Yeah, look, I think that Amazon is a place where we were able to be experimental, and push the envelope, and think outside the box, but not just in terms of the sexuality, but also in terms of the tone, the use of experimental films that are intercut sometimes, the editing, the music, the camera work. There are a lot of elements of the film, I just said it, the television series that feel more like an experimental film.
I Love Dick premieres on Amazon Prime from Friday, May 12.
Get the latest updates, reviews and unmissable series to watch and more!
Thank you for signing up to Whattowatch. You will receive a verification email shortly.
There was a problem. Please refresh the page and try again.