London Kills - Everything you need to know about the Hugo Speer cop drama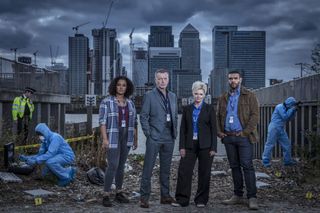 (Image credit: BBC/Acorn Media)
Hugo Speer talks about starring in BBC1's refreshingly straightforward new crime drama London Kills - which starts today on BBC1
When it comes to playing a copper Hugo Speer has earned his stripes. From gritty crime drama Five Days to lighter-hearted Father Brown, Hugo knows a thing or two about playing a compelling fictional detective. In BBC1's new five-part series London Kills, produced by Paul Marquess (The Bill, Suspects), Hugo plays DI David Bradford, head of an elite team investigating murders in the capital.
While the crime in each episode is standalone, the series is tied together by the fact that Bradford's wife, Sarah, is missing – presumed dead by his combative colleague DS Vivienne Cole (Mistresses star Sharon Small (opens in new tab))…
"I have played a lot of detectives so in a sense it's familiar territory," smiles Hugo, when TV Times meets him on set in central London. "For the past ten years I've done several series of a BBC Radio 4 drama called Stone, who's a detective inspector. I wanted to get it made for TV, and then this beautiful thing came along. It's everything I wanted in a job."
In the opening scenes of London Kills, Viv enjoys stretching her feet in Bradford's shoes while he's on compassionate leave. When he suddenly returns to work, however, she's forced back into the ranks alongside DC Rob Brady (Bailey Patrick, EastEnders, Good Omens) and TCD Billie Fitzgerald (Tori Allen-Martin (opens in new tab), Unforgotten).
"It's weird, I'd not worked with any of them before but as soon as the four of us were put together, we were giggling. It didn't feel like there was any real transition period of getting to know each other," says Hugo.
"We had to hit the ground running. The filming is very fast. It's also driven by realism. It's shot with three hand held cameras and sometimes a steadycam so it's got that documentary feel to it. It's an exciting way of working."
Monday's opening episode guest stars Glynis Barber as politician Kirsten Price, whose son, Tom, is found hanging in a London park. The team quickly establish that Tom was murdered and his suicide unconvincingly staged – but why, and by who?
Using CCTV, mobile phone data and TV appeals, they eke out the hidden details of Tom's life. Even so that doesn't guarantee the grisly case will be tied up with a bow…
More: Tom Bateman on Beecham House, ITV's lavish new drama
"Procedural detective dramas are very popular but I think recently they've become a little too high concept. You can't be a detective unless you're a superhero or time is moving backwards!" jokes Hugo.
"I think London Kills is a good, solid, clever procedural drama. We've an individual murder story in each episode. Meanwhile Bradford's always on tenterhooks. Maybe his wife's DNA will turn up on a crime scene… or a murder victim will have the same profile. I don't think Bradford sleeps particularly well at night!"
Who's who in London Kills
The stars of London Kills reveal what's driving their characters…
DI David Bradford (Hugo Speer)
DI Bradford heads the team but has been on compassionate leave for three months, as his wife is missing without a trace. David desperately hopes social worker Sarah is alive, and returns to work to take his mind off her mysterious disappearance. His personal circumstances make him more sensitive towards murder victims' families, but there's more to him than meets the eye…
"David tries to play by the book and be squeaky clean. Later we discover at one point in his life he was a detective chief inspector but he got too close to someone he was supposed to be protecting and got demoted," reveals Hugo. "He's a complex man underneath his charming, boyish exterior."
DS Vivienne Cole (Sharon Small)
While David and his daughter have been dealing with Sarah's disappearance, Viv's been stretching her toes in his shoes. With David's return Viv is instantly demoted from Acting DI, causing friction between them. Her policing manner is blunt and to the point, but her naturally suspicious nature serves her well. Viv firmly believes Sarah is dead, but is also hiding something from David about his wife!
"Vivienne is a bit of a lone wolf and isn't considered the best team player," reveals Sharon. "She's really fastidious and married to the job, and is quite serious. But her heart is in the right place. She starts to lighten up as the team become stronger. She becomes a reluctant mentor to Billie!"
DC Rob Brady (Bailey Patrick)
Rob is something of a closed book. But when it comes to policing his instincts are incredible. At first glance of a crime scene Rob has an uncanny eye for detail that distinguishes him from his colleagues. He's also skilled at negotiating office politics and keeping the peace between his co-workers…
"Rob's ex-military. He's got a big heart. He's trying to look after trainee Billie and also make peace between Viv and David," says Bailey. "We film in some great locations around London. Viewers get to become the detectives without leaving their armchair! "
TDC Billie Fitzgerald (Tori Allen-Martin)
New to the team Billie is a quick learner and unafraid to speak her mind. Her inexperience, however, makes her quite trusting when it comes to interviewing witnesses and suspects. She's also eager to please and impress her co-workers, especially Viv!
"I love her! She wears her heart on her sleeve and is desperate to please," says Toni. "She thinks Vivienne is incredible! She really looks up to her. Billie's just trying to find her way and do well at her job. She cares deeply but that can sometimes be her downfall."
London Kills airs on BBC1 Monday to Friday this week at 1.45pm.
Writer for TV Times, What's On TV, TV & Satellite Week and What To Watch
With twenty years of experience as an entertainment journalist, Elaine writes for What's on TV, TV Times, TV & Satellite Week and (opens in new tab)www.whattowatch.com (opens in new tab) covering a variety of programs from gardening and wildlife to documentaries and drama.
As well as active involvement in the WTW family's social media accounts, she has been known to get chatty on the red carpet and wander into the odd podcast.
After a day of previewing TV, writing about TV and interviewing TV stars, Elaine likes nothing than to relax… by watching TV.
Get the latest updates, reviews and unmissable series to watch and more!
Thank you for signing up to Whattowatch. You will receive a verification email shortly.
There was a problem. Please refresh the page and try again.