Love Island USA: Jesse makes a shocking revelation in Casa Amor
Love Island USA fans didn't see this coming.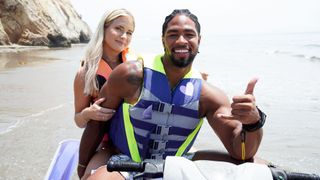 (Image credit: Casey Durkin/Peacock)
As the Love Island USA guys spent their first couple of days in Casa Amor with six brand new girls, many viewers assumed the most shocking thing they'd see in the 48 hours is that horrendously disgusting "bird game." However, as time continued to pass by, fans of the show began to take notice of Jesse Bray's behavior. While he appeared to be himself around the other male contestants, laughing and doing their typical "bro" antics, when it came to interacting with the new ladies on the island, Jesse seemed a bit more reserved.
Sure, he made out with Avery Grooms while in the midst of competition, has spent the night with her and even admitted to being able to have great conversations with her, but Jesse by and large has seemed off. Then he makes a revelation that many in the audience were not expecting.
Jesse misses Deb Chubb.
This came from a man that hasn't exactly seemed devoted to Deb so far in the competition. He lied about his feelings for contestant Valerie Bragg when he was caught in that messy "love triangle;" when given the chance to kiss any girl on the island he ran to kiss Sereniti instead of Deb who he was coupled with; and unlike the other pairs on the island, he doesn't exactly try to make out with Deb every chance he gets. The culmination of these things is probably why America voted and elected Jesse and Deb the most one-sided couple.
But with Jesse now stating he misses Deb and at times looking like a sad puppy in Casa Amor, viewers, while stunned, are starting to express feeling almost bad for him. After all, while Jesse now has his attention laser-focused on the blonde, she's been chatting it up with new contestant Kyle Fraser. Deb and Kyle even happily talk about conspiracy theories involving birds. And let us not forget to mention the two have now been caught in two lip locks.
UPDATE
It looks like Deb and Jesse have rekindled their situationship with one another as Kyle mysteriously left the island. The pair officially recoupled as of August 14.
Fans react to Jesse's revelation about Deb
Viewers are surprised by Jesse's lovesick behavior and some aren't sure how to process this information.
You can catch new episodes of Love Island USA season 4 when they air Tuesday through Sunday at 9 pm ET/6 pm PT on Peacock.
Terrell Smith has a diverse writing background having penned material for a wide array of clients including the federal government and Bravo television personalities. When he's not writing as Terrell, he's writing under his pseudonym Tavion Scott, creating scripts for his audio drama podcasts. Terrell is a huge fan of great storytelling when it comes to television and film. Some of his favorite shows include The Crown, WandaVision, Abbot Elementary and Godfather of Harlem. And a fun fact is he's completely dialed into the TLC 90 Day Fiancé universe.
Get the latest updates, reviews and unmissable series to watch and more!
Thank you for signing up to Whattowatch. You will receive a verification email shortly.
There was a problem. Please refresh the page and try again.