Love Island USA season 4: next episode, cast and everything we know about the reality series
With a new home on Peacock, things are about to get even hotter?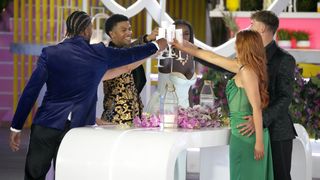 (Image credit: Casey Durkin/Peacock)
After three seasons on CBS, Love Island USA season 4 has found a new home on Peacock. Now officially a part of the streaming world, the show has teased that the restraints of broadcasting networks have been lifted and things are about to take a more "explicit" turn. (Although not too explicit we're sure, given Peacock has a reputation to uphold.)
Even with the streaming service calling the new season "steamier" than the last, the heart of the series remains the same. A group of strangers flock to a beautiful destination spot in the hopes of finding the romantic yin to their yang. Who are we kidding? If strangers manage to find love in the controlled chaos of the show, that's absolutely great, but the contestants are also likely incentivized by the cash prize.
Here's everything we know about Love Island USA season 4.
Who wins Love Island USA season 4?
Spoiler Alert!
In what may not be a shocker to most viewers, Tiimmy Pandolfi and Zeta Morrison have been crowned the winners of Love Island USA season 4, beating out Jesse and Deb and Isaiah and Sydney. Additionally, while fan-favorite Zeta was ultimately the recipient of the $100,000 grand prize, she decided to share the money with her Love Island beau.
When is the Love Island USA season 4 reunion?
With the winners for the season officially crowned, that means it's time for the season 4 reunion. After an interesting season that saw its share of twists and turns between the Love Island USA cast, we can't wait to see what conversations take place when they all come back together.
The reunion airs on Thursday, September 1, at 9 pm ET/6 pm PT on Peacock.
Love Island USA premise
Like The Office, Shameless, The X Factor and a number of other shows, Love Island USA is based on a British original. Like its predecessor Love Island UK, the series follows a group of strangers as they spend several weeks of their summer coupling with one another in the hopes of finding the right partner to not only build a romantic relationship with, but also to build a winning team.
While in principle this sounds easy enough, things become complicated as new singles are added to the mix, testing partnerships. Additionally, the various challenges the cast must compete in certainly don't help things.
During the course of the competition, the contestants reevaluate their partnerships and decide if they want to continue on in their twosome or pair up with someone else at weekly coupling ceremonies. Individuals found to be single after each ceremony are sent home. By the end of the summer, a winning couple is chosen to split a cash prize.
In a plot twist of sorts, during this season fans will have the opportunity to influence who the game is played.
Love Island USA season 4 cast
Here's the official cast for Love Island USA season 4. Be sure you check out our "Meet the Cast" piece to read their bios which include some very interesting facts.
Image 1 of 35
Peacock was also kind enough to release a video introducing the cast. Check it out.
Love Island USA season 4 eliminated contestants
Valerie Bragg
We imagine it's never fun being the first contestant eliminated from a competition. While she attempted to play the game well, perhaps Valerie would have been better off not choosing to couple up with Jesse right off the bat. He was clearly just too into Deb.
Tyler Radziszewski
Tyler was not on the show that long, although you wouldn't be able to tell that given how upset Sereniti was by his departure. Perhaps he wouldn't have been sent home if it wasn't between sending him and fan-favorite Zeta.

Felipe Gomes
Felipe's elimination came as a bit of a shocker. It seemed as if he and Courtney were locked in on their romance. However, that proved not to be the case with the arrival of Bryce on the island. When given the choice, she chose to be with Bryce, effectively casting Felipe out of the competition.
Andy Voyen
The self-proclaimed momma's boy was sent backing, which shouldn't be that big of a loss for fans, who weren't necessarily crazy about Andy.
Bria Bryant
After coming in between many fan's favorite couple on the island, Zeta and Timmy, Bria couldn't overcome the chemistry that the two clearly still had. The late arrival to the island was still among the first to be kicked off.
Sereniti Springs
Sereniti's time on the island came to an end when her partner Chazz Bryant dumped her for a new arrival, Katherine Gibson.
Mady McLanahan
Shocking everyone in the villa, and outraging a few fans, Mady chose to self-eliminate from the competition. She alleges she just wasn't able to shake what she had with Andy and hopes to reconnect with him outside of the show.
Bryce Fins
Although he wasn't in the competition long, he seemed to have a genuine bond with Courtney. However, Courtney quickly grew tired of him, and the girls on the island selected him to go home.
Jared Hassim
In a double couple elimination, Jared was sent home with his official partner on record Chanse Corbi. We say official because even though he brought her back from Casa Amor, he was quick to unofficially couple up with Kat.
Kat Gibson
With the news that Jared was going home, Kat voluntarily announced that she was leaving the island as well. She admitted to finding what she was looking for in the competition with Jared.
Chazz Bryant
Unfortunately for Chazz, he was also sent home in the double couple elimination much to the delight of many fans of the show. His Casa Amor partner Bella was also eliminated with him.
Courtney Boerner
In perhaps the most shocking turn of events this season, the fan favorite was sent home after Chad dumped her and opted to couple up with new old-comer Mackenzie.
Mackenzie Dipman
As quickly as the Love Island USA alum came, she left. Unfortunately, she wasn't able to make any real romantic connections this time around, but she proudly mentioned being able to develop some friendships.
Joel Beirwert
Joel wasn't in the competition long and the connection he thought he shared with Phoebe simply wasn't there. Hopefully, upon leaving the Villa, he'll be able to reconnect with former contestant Bella.
Phoebe Siegel
While Phoebe has had an interesting journey on the show, she perhaps found her connection a little too late in the game. In a majority vote by the other contestants, she and Chad were eliminated.
Chad Robinson
He was eliminated along with Phoebe right before the season finale.
Jeff Christian Jr.
Jeff shocked the contestants in the Villa and viewers at home, when he became outraged with the elimination of Chad and Phoebe. He got into a heated argument with Timmy over the couple's departure and even lashed out at Nadjha. The latter was completely turned off by his behavior and decided not to go with him into the finale.
Nadjha Day
We can't say we blame her for self-eliminating right before the finale. After Jeff kind of blew up on her, we understand her not wanting to continue on further with him.
Love Island USA season 4 host
In some good news for Modern Family fans, joining as host of Love Island USA season 4 is Sarah Hyland, aka Hayley Dunphy on the legendary sitcom. Hyland has also starred as Mara in The Wedding Year and recently as Kelly in My Fake Boyfriend.
Are we the only ones that have noticed her relative absence from the series since the first episode?
Love Island USA season 4 trailer
Ahead of the Love Island USA season 4 release, Peacock was kind enough to release a sneak peek of the premiere episode. We've provided it below.
How to watch Love Island USA season 4
Love Island USA season 4 is officially now a Peacock Original series. As such, in order to view the season you'll need a subscription to the streaming service.
Those in the UK can now watch the season nightly at 10 pm on ITVBe.
Get the What to Watch Newsletter
The latest updates, reviews and unmissable series to watch and more!
Terrell Smith has a diverse writing background having penned material for a wide array of clients including the federal government and Bravo television personalities. When he's not writing as Terrell, he's writing under his pseudonym Tavion Scott, creating scripts for his audio drama podcasts. Terrell is a huge fan of great storytelling when it comes to television and film. Some of his favorite shows include The Crown, WandaVision, Abbot Elementary and Godfather of Harlem. And a fun fact is he's completely dialed into the TLC 90 Day Fiancé universe.