Matt and Alex celebrate 10 years of The One Show: 'It's the perfect show for all ages'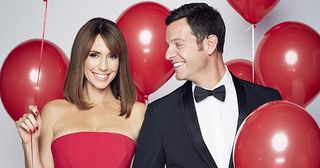 (Image credit: BBC/David Venni)
The One Show marks its 10th birthday this week and here at TV Times we definitely think that's cause for celebration.
For the past five years, Matt Baker, 38, and Alex Jones, 39, have presented The One Show, BBC1 magazine show which goes out live each weekday to an audience of five million viewers.
Before the pair tucked into the birthday cake, we asked them to tell us the secret of the show's success and give us their highlights from their time on the show…
Why do you think show is so popular? Matt: "It's the conversation you would want to have over the garden gate or over the bar of the pub. Also, if you are bored of a particular item, you know that after three and a half minutes we are going to go on to something different.
"And because it's live it seems that everybody is enjoying the programme at exactly the same time so there is a real sense of community while you are watching it. It is perfect for all ages. Whether it is bedtime telly for some or the first thing you watch when you get in from work. We try to cater for everyone."
What is the secret to your on-screen partnership? Alex: "It wouldn't work if we didn't get on like a house on fire. It also helps that we have been doing it for such a long time so we know each other inside out. We know stuff about each other that we can bring up in the programme so when we talk to Hollywood A-lister or a musician or a comedian I know where Matt is going with a certain line of questioning because of his interests and he'll know where I'm going. We also both want the best show to go out each evening."
What are each other's best points? Alex: "Matt is very reliable, very professional and he's also very funny. It is just knowing that the person sitting by your side has got your back and will step in if you need help and vice versa. We trust each other." Matt: "Al will always look for the good in people. She's a very happy soul. She will always makes sure that everyone is all right and that is a wonderful quality to have."
What is the key to a good interview? Matt: "Without a doubt it is listening, so that you can pick up on something the person has said that is intriguing or is something that that you know your viewers are going to want to know more about and maybe taking the interview in a slightly different direction to what you had planned."
How do you put non-celebrities at ease? Alex: "Obviously, we get really famous people on the sofa. But our show is also made up of ordinary people who have done extraordinary things or have been through really tough times. Our job is to empathise and to get the audience to share in their pain or their joy or whatever it is they are talking about. To Matt and I these guests are as important, if not more important, than the celebrity guests."
Do you like it doing live TV? Alex: "Matt and I both prefer the live half an hour to any other part of the process because there is a lot of spontaneity to it. When we go on air that is when we come into our own and that's when we really enjoy ourselves."
What do you do when you come off air? Alex: "We run for the car park, get in our cars and go home. We're very rock 'n' roll! Matt and I are both pretty much home birds. We really enjoy our time at work, but when it's done we are happy to go home, put our feet up and have a cup of tea."
Get the latest updates, reviews and unmissable series to watch and more!
Thank you for signing up to Whattowatch. You will receive a verification email shortly.
There was a problem. Please refresh the page and try again.