Michael Greco's Casualty debut revealed!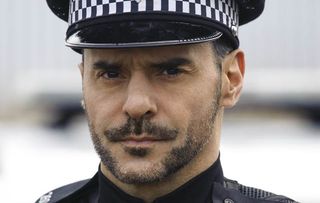 (Image credit: BBC / Alistair Heap)
*Contains first look pictures and spoilers* EastEnders star Michael Greco joins Casualty as PC Phil Paterson. Here's everything we know about his electric arrival in Holby ED…
Michael Greco is instantly recognisable as EastEnders heartbreaker Beppe Di Marco, but this week, Michael, 46, makes a welcome return to another BBC prime-time drama when he joins Casualty as PC Phil Paterson, where it's possible he'll be breaking more hearts...
It's an action-packed intro. Immediately Phil is flirting, breaking hearts and fighting for his life. Here's everything we know about Phil's arrival...
Michael starts his new recurring role in Casualty this week as PC Phil Paterson. The Holby policeman is called to the ED after receptionist Noel sees a teenage girl steal a wallet in the waiting room.
Phil is on the case as soon as he arrives in the ED. Once Noel points out the thief, Phil gives chase, but loses her when he experiences shocking chest pains. Phil tries to shrug it off, revealing he's been overdoing it at the gym, but consultant Elle Gardner isn't falling for his macho talk and insists he has a full MOT.
While caring for handsome Phil, 50, Elle becomes really tongue-tied and clumsy when he openly flirts with her. Later, when Phil races off in the line of duty without waiting for his medical results, Elle's unsure if she'll see the charming copper again…
She does, however, but under unhappy circumstances… Phil is left fighting for his life after he runs to the rescue of Connie and Hugo. Can Connie save the brave copper?
More about Michael…
Surrey-born Michael, 46, played EastEnders' Beppe Di Marco from 1998 until 2002. During his time on the soap Beppe was fired from the police force for framing Grant Mitchell after he fell in love with Tiffany. He also dated Sam Mitchell and Lynne Slater.
Michael is a professional poker player and says his acting skills help him win. In 2006 he came second to comedian Norman Pace in Showbiz Poker!
Michael's appeared in reality shows Celebrity Love Island and Soapstar Superstar. He also starred alongside Kevin Costner in 2012 US mini-series Hatfields & McCoys.
Speaking on Twitter about his new Casualty role, Michael said he was 'delighted to be joining the cast of @BBCCasualty'
Michael makes his Casualty debut on Saturday 20 May at 9pm on BBC1
Read more about Michael's debut episode here
Get the latest updates, reviews and unmissable series to watch and more!
Thank you for signing up to Whattowatch. You will receive a verification email shortly.
There was a problem. Please refresh the page and try again.