Connie's domestic peace is shattered!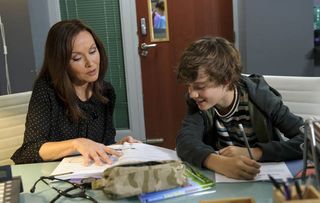 (Image credit: BBC / Alistair Heap)
A personal crisis looms for clinical lead, Connie Beauchamp. Is she ready to face her demons?
In recent months clinical lead Connie Beauchamp has been in a questionable state of mind. One minute she's prepared to let Steph Sims die under her care, and the next she's drugging her daughter's food!
Recently it's been nice to see her in a state of bliss playing happy families with young Hugo Bonning, who she's looking after while his dad and pregnant stepmum sort out their problems. But this is Casualty, and this week Connie's domestic harmony is shattered when Hugo's dad, Jim, announces he's taking Hugo back and they're moving to Edinburgh that evening!
Connie's shocked and tries to talk Jim into leaving Hugo with her, but he refuses. Then a distraught Hugo runs off and hitches a lift with a trucker! Meanwhile, Connie's daughter Grace is refusing to talk to her mother.
Eventually Hugo's tracked down, and heartbroken Connie waves goodbye to the boy she's come to regard as a son. Fortunately, Connie's ex-boyfriend Jacob Masters is by her side at this distressing time.
Which begs the question - has tortured Connie left it too late to repair the relationships that matter most to her? Or could she reconcile with ex-lover Jacob and traumatised daughter Grace? For more read our interview with Amanda Mealing.
Elsewhere, Lily makes an unexpected return to the ED this week even though she's still recovering from the hit and run accident that nearly killed her.
Dylan's worried Lily's returned too soon. While Louise twigs why Lily's really returned – to be closer to paramedic Iain! By the end of the shift Lily's on the verge of revealing her feelings to Iain – until Sam encourages her to apply for the consultant interviews. Will she choose career over love?
Also this week, doctor Elle Gardner has her head turned by PC Phil Paterson! We reckon this won't be Elle's only encounter with the charming copper, as this week marks the first in a recurring role for former EastEnders' star Michael Greco.
And paramedic Jez is convinced he's about to be dumped by his new lover Mickey. Alicia thinks this is a good thing, given Mickey's brother Scott is believed to have stabbed doctor Cal Knight to death. Later, however, Jez is revealed when Mickey explains he wants their relationship to continue but they need to keep it low-key. Should Jez be worried about Mickey's racist family finding out they're dating?
Get the latest updates, reviews and unmissable series to watch and more!
Thank you for signing up to Whattowatch. You will receive a verification email shortly.
There was a problem. Please refresh the page and try again.