Michael Palin: 'I grabbed the chance to narrate the new Clangers'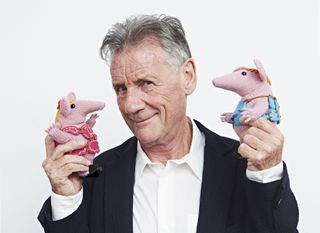 (Image credit: BBC/Coolabi, Smallfilms and Peter Firmin)
The cutest aliens ever to grace children's TV are making a comeback. Originally running from 1969 to 1974, The Clangers quickly became a cult animation, so when Monty Python star Michael Palin was asked if he'd narrate for their return to Cbeebies, he leapt at the chance.
"It's such a classic series," says Michael, also known for his travel documentaries. "I remember watching it when my son Tom was two, back in 1969. It's about a family of pink mice-like creatures who live on a blue planet and communicate through whistling sounds. It has a subtle humour and gentle pace. I loved it then so I immediately grabbed the chance to narrate the new Clangers."
The series again follows the pink-knitted creatures who make up the Clanger family, led by bumbling Major Clanger. Just as before, every episode sees them solving a new problem or greeting a new unusual visitor. Many of the famous characters from the original, such as the Soup Dragon and Iron Chicken, are back too, and it retains the stop-motion technique used in the original serie,s but with some modern enhancements.
"It's brighter and the mice can now do things like fly rather than staying stuck to the ground!" explains Michael. "But I'm glad they didn't make major changes or use CGI because it's a lovely formula that works.
"The Clangers' world with its beautiful music has a very calming effect on people who watch. Anyone who says things are getting on top of them shouldn't spend thousands on a spa - just spend some time on that blue planet!
"This was the Sixties when everyone wanted to do something new. The Clangers felt different to the other kids' programmes and allowed for great leaps of imagination. It was the same with Monty Python in that we tried to make something a bit different and surreal."
Michael's voiceover has stuck closely to the style of the original narrator and Clangers creator, the late Oliver Postgate.
"Oliver achieved a tone that wasn't too big or small – just enquiring. I listened to two or three of his Clangers episodes so I had his voice and approach at the back of my mind and I tried to approach this series as close to his as possible. I know I can't be the same, but I aimed for a reassuring and quite intimate quality. Let the world and the Clanger whistles go on and just occasionally I say an 'oh dear'.
"You have to be careful just to observe. You know in the end all is going to be OK on the Clangers' planet. It's a very cohesive little world even though all sorts of strange things happen. The Clangers know what to do and how to live and have a jolly little time really. And they're very good at recycling things."
The Clangers runs on CBeebies weekdays at 5.30pm, starting Monday, June 15
Get the latest updates, reviews and unmissable series to watch and more!
Thank you for signing up to Whattowatch. You will receive a verification email shortly.
There was a problem. Please refresh the page and try again.