Our Top 10 Passion films you must see this Easter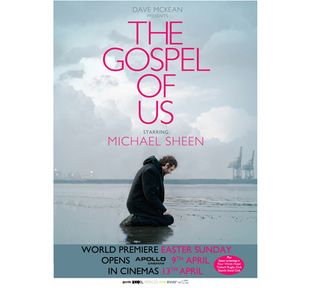 Last Easter, Michael Sheen co-directed and starred in an outstanding three-day long theatre production that has served as the basis of the forthcoming feature, The Gospel of Us. The film transposes the traditional Passion narrative - the trial and execution by crucifixion of Jesus Christ - to modern-day Port Talbot, Wales: a town under the control of a ruthless company exploiting the natural resources at the expense of the community. Michael Sheen plays The Teacher, a mysterious man who becomes a thorn in the side of the company when he and his followers try to halt the company's latest project.
The Gospel of Us gets its world premiere in Port Talbot on Easter Sunday, ahead of its release in UK cinemas on 13 April, while highlights of Michael Sheen's Passion in Port Talbot is showing on Easter Sunday on BBC4 at 10.30pm. In light of the film's release and with Easter upon us, here's our Top 10 films about the Passion of Christ that we think are a must-see…
The Passion of the Christ (2004) In the Garden of Gethsemane, Jesus (Jim Caviezel) is arrested after his betrayal by Judas Iscariot and undergoes a series of tortures at the hands of the authorities, climaxing in his crucifixion. Mel Gibson's gory film is probably one of the most controversial religious films ever made, due mainly to its extremist viewpoint. But it's also a powerful piece of cinema. In Aramaic and Latin with subtitles.
Jesus of Montreal (1989) This Canadian drama stars Lothaire Bluteau as an actor who ends up getting too close to the role when he is hired to play Jesus in an unconventional Passion play. Daringly conceived and brilliantly executed, this is a searing black comedy that pokes fun at many aspects of contemporary religious life. In French with subtitles.
The Last Temptation of Christ (1988) Director Martin Scorsese's controversial drama was the subject of much angry debate before its release. Adapted from Nikos Kazantzakis 1951 novel, it presented an unorthodox but intensely spiritual portrait of a Jesus (Willem Dafoe) torn between his human nature and divine destiny. Sincere and thought-provoking film, its probably one of the most devout cinematic offerings.
Jesus Christ Superstar (1973) Andrew Lloyd Webber and Tim Rice's famous musical about the last few days in the life of Christ (Ted Neeley) is told largely from the viewpoint of Judas. Although its got some really cheesy moments, its an inspired adaptation of the stage show, helped greatly by the use of stunning real-life Holy Land locations and ancient ruins.
The Greatest Story Ever Told (1965) Just about every working actor in Tinseltown pops up in this biblical epic – watch out for John Wayne and his one line of dialogue as The Centurion – directed by Giant's George Stevens and starring Max Von Sydow as Jesus Christ. A real guilty pleasure.
The Gospel According to Matthew (1964) This powerful, neo-realist account of the life of Christ (Enrique Irazoqui) is possibly Pier Paolo Pasolini's finest film. Hypnotic to watch – thanks to the sublime performances of the actors (and non-actors) assembled and the real-life Holy Land locations which the director took great care in selecting – the film carries a potent emotional charge that stays with you long after the film has finished. In Italian with subtitles. • The film has just been giving a HD makeover and is now available in Dual Format (Blu-ray and DVD) through the Masters of Cinema Series. See below for a clip.
King of Kings (1961) From Rebel Without A Cause director Nicholas Ray comes the epic drama in which John the Baptist rebukes the decadent splendor of King Herod's court and announces the coming of the Messiah (played by Star Trek hunk Jeffrey Hunter). Simply told and beautifully photographed, this is a true classic.
Ben-Hur (1959) Probably the historical epic to end all historical epics, this Oscar-winning favourite finds the Messiah (Claude Heater) merely crossing paths with the film's real hero, Charlton Heston, who plays the titular Jewish prince-turned-galley slave at war with his one-time boyhood friend Messala (Stephen Boyd). • Showing on Easter Monday, Channel 4 at 11am; Wednesday 11 April, TCM, 4.55pm; Thursday 12 April, TCM, 8.50am
The Robe (1953) This beautifully crafted epic, and the first film to be shot in CinemaScope, finds Richard Burton playing a young Roman centurion in charge of the crucifixion of Christ (an uncredited Donald Klune, with Cameron Mitchell doing the voice) who wins his robe in a game of chance. Victor Mature's career-defining performance as the slave Demetrius makes this one to watch again and again. • Showing Easter Monday, Channel 4 at 8.25am.
King of Kings (1927) From Cecil B DeMille, the master of the Hollywood epic, comes the vintage silent epic that still looks impressive today - especially the resurrection sequence, which was actually shot in colour. British actor HB Warner looks uncannily like the Jesus drawn in many a religious painting.
http://www.youtube.com/watch?v=L0vynmCABnA&fs=1
Get the latest updates, reviews and unmissable series to watch and more!
Thank you for signing up to Whattowatch. You will receive a verification email shortly.
There was a problem. Please refresh the page and try again.