Paloma Faith's 'comeback girl' Jordan makes it through to The Voice's live shows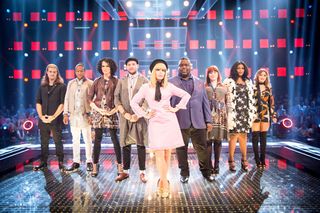 (Image credit: BBC / WALL TO WALL / GUY LEVY)
In the first of the Knockouts on The Voice, it was transgender singer Jordan Gray on Paloma Faith (opens in new tab)'s team who perhaps emerged most triumphant…
Jordan had failed to get a coach to turn in the contest's blind auditions, but was given a place on Paloma's team when one of her members quit.
Now Jordan's in Team Paloma's final three, and through to the live shows, after a spine-tingling performance of Deacon Blue's Real Gone Kid.
All of the acts in the Knockouts had to choose their own song for this round… And the first two teams to go through this round were Paloma's and Ricky Wilson (opens in new tab)'s.
Each had eight acts and each had to eliminate five of them from their team.
Team Paloma at the Knockouts: Rick Snowdon, Kagan, Jordan Gray, Deano, Paloma,

Aaron Hill, Heather Cameron-Hayes, Faith Nelson and Beth Morris
"I want to see something I haven't before from them," said Paloma. "They have to choose their songs wisely to show their potential. I've taken them this far but they'll have to take themselves through to the live shows."
And Paloma was a bit nervous about Jordan's choice after watching her in rehearsal.
"I think the performance is slightly on the edge," Paloma said.
But fellow coach Ricky was on his feet during Jordan's performance and the judges huddled together to speak of how "amazing" they thought Jordan was.
Jordan was joined on Team Paloma for the live shows by Beth Morris and Heather Cameron-Hayes.
Beth sang The Rolling Stones' Jumpin' Jack Flash and Paloma described her as "an undeniable, powerful force" as she put her through to the live show.
Schoolgirl Heather performed her own version of Bonnie Tyler's Holding Out For A Hero and Ricky said "she took something corny and made it magic".
"Heather is one of my steals [from Boy George]," said Paloma. "Sometimes some just has something you can't put into words and I think Heather is that. She has an !Q in the same region as Stephen Hawking's… I've never had my IQ tested but I imagine it would be quite low.
"She has an old soul and makes me feel I could learn from her."
Ricky's team included former Liberty X singer Kevin Simm (stolen from Paloma) and, yes, he did make it through to the live shows after singing Wings, by Birdy…
Team Ricky lined up for the Knockouts: Jolan, Kagan, Chloe Castro, Brooklynne Richards, Ricky,

Rachel Ann, Aliesha Lobuczek, Mia Sylvester, Kevin Simm
"He's brilliant," said Ricky. "I'm deeply rooting for him and hope everyone at home is, too.
But the standout performance on Ricky's team came from Chloe Castro, singing Alive, by Sia. As she was performing, will.i.am gave Ricky a nod of approval.
"Life's full of tough decisions, but this sin't one of them," said Ricky as he put Chloe through.
Ricky's third act to survive the Knockouts is Jolan, who sang Never Tear Us Apart, by INXS.
"I took Jolan through because he shows me his soul when he sings," Ricky said.
Click here (opens in new tab) for our picture special on all the winners and losers from this round of the Knockouts.
Next on The Voice (opens in new tab), will.i.am (opens in new tab) and Boy George (opens in new tab) go through the Knockouts with their teams… BBC1, Sunday, March 20, 7.45pm.
Thank you for signing up to Whattowatch. You will receive a verification email shortly.
There was a problem. Please refresh the page and try again.