Peter Davison on reuniting with this All Creatures Great and Small star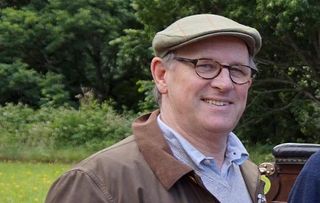 (Image credit: Turn TV Ltd / Channel 4 Televisi)
Peter Davison on teaming up again with his All Creatures Great and Small co-star Christopher Timothy for Great British Car Journeys
It's more than 40 years since Christopher Timothy and Peter Davison forged a firm friendship in much-loved period drama All Creatures Great and Small. Now, they are getting behind the wheel for C4's three-part travelogue Great British Car Journeys, which sees them relive the 1930s' golden age of motoring by touring the UK using traditional routes and original maps.
Here Peter Davison tells TV Times why reuniting with Christopher Timothy for Great British Car Journeys was so special…
TV Times: Why did you want to take part in Great British Car Journeys?
Peter Davison: "Being with Chris is fun and I've always liked the idea of driving places slowly. Once you get off the motorway, part of the adventure is planning your own route with shortcuts. I've an interest in cars too. With the cars in All Creatures, the main pressure was that when you were screaming around lanes and skidding to a halt, the cars' owners would be behind the camera watching!"
TVT: What did you make of the cars in this?
PD: "I drove a Morgan 4/4 and it's a brilliant car but impractical for two people who are getting on a bit because it's almost impossible to get out of! We saw some really old cars and met some real car enthusiasts along the way though."
TVT: Were there any mishaps?
PD: "On one road in Scotland they'd made a reservoir over the route - on our old map it was still a road - so we had to turn back. And getting onto the ferry to Skye, there was a crunch! Going to the South West we also had some early French cars that broke down so we ended up pushing them!"
TVT: Was it good to be with Chris again?
PD: "I enjoyed it immensely. We've always had a close relationship and have never lost touch. I have great respect for him because for me, as a young actor starting out on All Creatures, he was influential and generous on set and he set the tone for how I approached my career."
TVT: All Creatures holds such a special place in viewers' memories doesn't it?
PD: "Yes, because they were great stories and we had a great time making it and that came over on screen. People come up to me much more about that than anything else I've done, even more than Doctor Who. They had a fondness for me as Tristan Farnon. The character was largely 'me' anyway. When I've done something different like [ITV's 2000-2003 drama] At Home With the Braithwaites, where I was unpleasant, I've enjoyed it, but it's always good to play a nice guy!"
Great British Car Journeys airs on C4 on Saturday 2 February at 8pm
Get the latest updates, reviews and unmissable series to watch and more!
Thank you for signing up to Whattowatch. You will receive a verification email shortly.
There was a problem. Please refresh the page and try again.