Pierrot le fou (1965) | Jean-Paul Belmondo hits the road in Godard's revolutionary thriller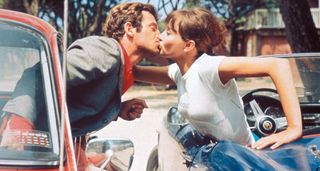 Based on Lionel White's novel Obsession, 1965's Pierrot le fou is a mad, bad, dangerous-to-know curiosity from director Jean-Luc Godard.
Tired of his bourgeois wife and materialistic lifestyle, restless TV executive Ferdinand (Jean-Paul Belmondo) escapes to the French Riveria with his former girlfriend-Marianne (Anna Karina), who is being hunted by some gun-running gangsters. But their carefree new life is quickly interrupted by their pursuers, and a man called Fred (Dirk Sanders), who may or may not be Marianne's brother…
Belmondo scored a BAFTA nod for his performance in Godard's anarchic tale about a couple unable to escape fate no matter how far they flee. Made off the cuff, but with meticulous attention, this free-wheeling road movie certainly displays the director's love for American pulp fiction and pop culture, while also delivering an allegorical view of the Vietnam war.
Pierrot le fou (Cert 15, 113 mins) is available on StudioCanal's Jean-Luc Godard The Essential Blu-ray Collection five-disc box set alongside featuringBreathless (opens in new tab), Alphaville, Le Mépris, and Une Femme est Une Femme.
The special features include the following…
• Introduction by Colin McCabe
• Anna Karina interview
• Godard, Love and Poetry (53min)
• Film Analysis by Jean-Bernard Pouy
• Trailer (2min)
• German TV advert (4min)
• Posters
Get the latest updates, reviews and unmissable series to watch and more!
Thank you for signing up to Whattowatch. You will receive a verification email shortly.
There was a problem. Please refresh the page and try again.