GMB's Piers Morgan gets ratty with BBC Breakfast's Dan Walker over studio squeal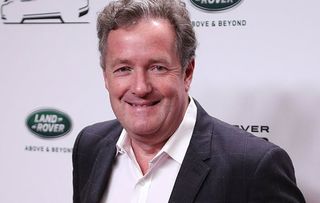 The "arch rivals" had a bit of a to-do over a noise in the BBC Breakfast studio.
Good Morning Britain's Piers Morgan joked that there was a "stench of failure" at rival BBC Breakfast after it appeared to suffer an on-air technical glitch.
During the ITV programme's live broadcast Piers took a swipe in response to a tweet from BBC presenter Dan Walker, in which he apologised for a high-pitched noise that could be heard in the studio.
Dan wrote: "Morning. Sorry about the high-pitch noise in the studio. If you can hear it… don't panic… we're sorting it."
Spotting the tweet, Piers told viewers: "Worrying development over at our so-called rivals.
"I fear it may be rats deserting the sinking ship. They do make that noise."
He then imitated a squeaking rat, and added: "That may be what it is, Dan. The stench of failure sweeps the studio.
"When even rats are leaving you've got a problem, buddy."
Piers later took to Twitter and repeated his claims to Dan.
But the BBC host bit back with a quip of his own.
He wrote: "Would that be the sinking ship that is twice as big as yours? #WereGoingToNeedABiggerBoat."
Ouch!
Get the latest updates, reviews and unmissable series to watch and more!
Thank you for signing up to Whattowatch. You will receive a verification email shortly.
There was a problem. Please refresh the page and try again.