Power to the People! Robert Lindsay to reprise role for Citizen Smith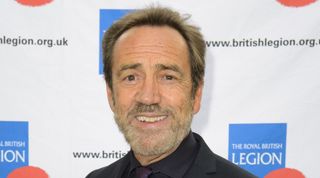 Classic BBC comedy Citizen Smith may be about to return to our screens, with Robert Lindsay confirming he wants to return to his role as Wolfie Smith.
With his slogan 'Power to the People', Wolfie's fruitless attempts to incite a Marxist revolution and create 'freedom for Tooting' were a big hit on TV in the late Seventies – but now the Che Guevara of south London is poised to take over the Labour party.
Robert told The Independent: "I've been chased by a production company which is very much trying to get Wolfie to run for the Labour Party and bring him back into power. I think that's a fantastic idea."
Robert Lindsay (Jonathan Brady/PA)
Wolfie was Robert's breakthrough TV role, though he has since gone on to star in GBH, My Family, Spy and Atlantis, not to mention an extremely successful stage career.
The original series was written by the late John Sullivan, who went on to create Only Fools And Horses. Robert said that a team of writers and producers would revive the sitcom in John's place. "There are moves afoot in the industry to bring Citizen Smith back with some respected figures that I very much admire," he teased.
http://www.youtube.com/watch?v=fMKsR_wUSfA&feature=oembed
Citizen Smith ran for four series from 1977 to 1980. Robert, 65, said he had regrets about leaving the show. "It was a series I never finished. It was just beginning to become huge," he explained.
"You know what happens, you want to be a serious actor, you don't want to do sitcoms. The word 'sitcom' becomes such a dirty word. The press say 'oh, It's only a sitcom.' It's not, it's b****y hard to make it work."
Get the latest updates, reviews and unmissable series to watch and more!
Thank you for signing up to Whattowatch. You will receive a verification email shortly.
There was a problem. Please refresh the page and try again.