Riverdale fans express their love for Tabitha Tate and Erinn Westbrook after special episode
Tabitha Tate was front and center in the latest episode of Riverdale.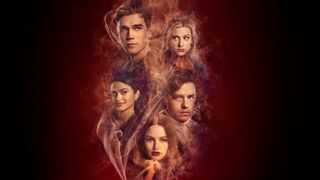 (Image credit: The CW)
We finally got a Tabitha Tate-centric episode of Riverdale and fans agree it's easily one of the show's best.
Since the synopsis for "Chapter One Hundred and Six: Angels in America" was first released, audiences were beyond excited to see an episode with Tabitha front and center in Riverdale season 6.
In the episode, Erinn Westbrook took viewers on a journey through time, perfectly transforming and allowing viewers to get sucked into each storyline.
Westbrook posted a sweet message on her Instagram ahead of the episode's premiere, writing: "Travel through time with Tabitha Tate on @thecwriverdale. Many thanks to @writerras for the opportunity to lead this episode "Angels in America," @evkmartin + our talented & committed writers for the beautiful story and @claudiayarmy for her vision and collaborative spirit.
"To our crew: nothing would be possible without your hard work, thank you. Although Riverdale is, in so many ways, a land of the fantastical, I'm grateful to touch upon important issues that were (& are) very much real in this ep. Don't miss it."
Fans declared the day "Tabitha Tate day" and referred to the episode as "Tabithadale" to celebrate.
Both #Tabithadale and Tabitha were trending last night.
Many shared their praise for the actress' powerful and moving work in the episode, which handled topics such as racism.
"the way tabitha held that episode down! truly was captivating and absolutely incredible to see her take charge and try to save riverdale and help others. she's loyal, she's smart, she's compassionate, she's badass!!! truly the best character!!!!" one tweet read.
Another wrote: "OK IS ERINN AN AMAZING ACTRESS OR WHAT LIKE THIS IS SUCH A PERFECT EPISODE TO ME".
The episode also offered some insight into the overall season's arc, also paralleling some of Tabitha's events from Rivervale.
Of course, fans were also happy with the different relationships shown in the plot, specifically the choice for Tabitha's guardian angels: Jughead, Toni, and Betty.
It was also revealed that Tabitha is the latest character to unlock a new power: the ability to time travel. Out of all of the superpowers, we have to admit, this one probably is the coolest so far.
Tabitha definitely seems to be a huge part of saving Riverdale and we can't wait to see what all of this means for her future.
New episodes of Riverdale air Sundays at 8 PM ET on The CW and are available to stream for free on The CW App. Over in the UK, episodes air on Netflix on Mondays, a day after they premiere in the US.
Get the What to Watch Newsletter
The latest updates, reviews and unmissable series to watch and more!
Sophia Soto has a passion for all things entertainment. She is a member of The Hollywood Critics Association and currently writes for The Nerds of Color. You can also see her work on What To Watch, Remezcla, Looper, Den of Geek, Young Hollywood and more. Some of her favorite shows include Grey's Anatomy, The Goldbergs, Riverdale and Roswell, New Mexico. She is a complete Marvel nerd as well!