Roll up, roll up: Last night's The Voice in quotes (it's all about will.i.am!)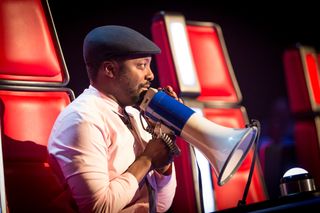 (Image credit: BBC / WALL TO WALL / GUY LEVY)
There were some great contestants on last night's The Voice. But will.i.am and his megaphone stole the show. His habit of leaving his choices until the last minute was the most talked about point on the programme by fellow judges Boy George, Paloma Faith and Ricky Wilson... and Will himself!
Here's our round up of the best quotes about and by Will in last night's The Voice
On why he doesn't make timely decisions:
Will said: "I hold out 'till the last minute because I like to be rushed. I like to order last, I like to board the plane last. I like to do things last."
Paloma Faith said: "I've nicknamed Will 'will I am always late!''
On trying to win contestants over, Will went on the weirdest of charm offensives:
He failed to sway barefoot vegan Rachel Ann, 16, when he said:
"There was a red moon a couple of days ago and it opened up a portal, and angels have fallen out of the sky. And then you're there."
While Laura Begley, 22 from Sterling, burst out laughing when he whipped out a megaphone and said: "If you were on my team I would clear traffic for you. What that means literally is to literally clear traffic!"
With Will the last judge to bag singers, everyone wondered what he'd do. Even Will himself, who said: "What happens if I don't turn? … Do we have to stay here another day?"
But Paloma wasn't having any of it: "I've got some fish in the fridge that's going off tomorrow Will, I've got to get back to London."
Ricky Wilson had already remarked: "He's up to his old tricks but he's playing a very dangerous game."
But it was Boy George who summed up the value of Will's cavalier approach: "Very brave Will. It's a gamble, but it's also exciting waiting until the last minute."
Thanks for the hysteria and hilarity Will. You're the true star of the show.
Now, what will happen next week when The Battles begin?
Boy George hints: "The gloves are off!"
Read our round-up of last night's show here
Get the latest updates, reviews and unmissable series to watch and more!
Thank you for signing up to Whattowatch. You will receive a verification email shortly.
There was a problem. Please refresh the page and try again.