Ross Kemp turns his focus onto ISIS: 'It's the best thing we've done in 12 years'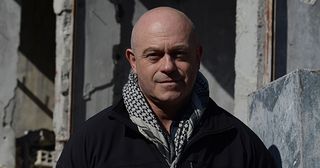 Ross Kemp talks to TV Times about his latest documentary in which he joins Kurdish fighters battling ISIS on the front line in Syria and Iraq
He's just finished filming his final EastEnders scenes following an eagerly anticipated return to the BBC1 soap, but we're catching up with Ross Kemp to discuss his latest passion project, a Sky 1 documentary, Ross Kemp: The Fight Against ISIS, in which he joins Kurdish fighters battling so-called ISIS on the front line in Syria and Iraq.
Was it strange returning to EastEnders after your second career as a documentary maker reporting from some of the world's most dangerous locations? "I got up early this morning and drove round the M25 to Elstree to be Grant Mitchell. In a way that's even more surreal than being in Iraq and Syria – but there you go."
There are some terrifying scenes in your latest documentary, how does it feel coming under fire on the front line? "It certainly makes the heart beat faster, and you enjoy your supper that night! But it's part and parcel of what we do. That's what happens in a fire fight – people shoot at you and are trying to kill you."
How did you react to the news that Abu Layla [the charismatic commander of the Free Syrian Army who appears in the documentary] had been killed? "It's a really shocking reminder of how dangerous life is on the front line. He was shot in the head by a sniper. He was one of those people who you meet who seem invincible. He'd already been shot eight times in the stomach in the battle for Kobane [a city in northern Syria that was besieged by ISIS forces]."
Can you tell us a bit about the people you encountered? "I met a lot of Arab families who have been liberated by Kurdish or Arab forces, young Kurdish women who have taken up arms and a captured ISIS fighter. He was in Al Qaeda before going to join ISIS. He definitely did not fit the image of the ISIS forces we in the West have been fed in propaganda – these sylth-like, ninja-type fighters. He was a short, fat, uneducated lad who came from the provinces and was doing it partly for the money."
What were you hoping to achieve? "News reports can only do so much, which is why documentaries are made, and I think this is the best thing we've done in 12 years of documentary-making. I don't think these people should be forgotten if and when ISIS are defeated. The Kurds have taken the fight to ISIS and beaten them back. These guys didn't give in, they stood their ground. They should be praised and thanked for that, and not forgotten."
Ross Kemp: The Fight Against ISIS screens on Sky 1 on Thursday, July 14
Get the What to Watch Newsletter
The latest updates, reviews and unmissable series to watch and more!