Roxanne Pallett reveals all about going on Celebrity Island with Bear Grylls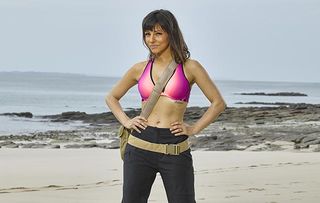 (Image credit: Channel 4 Television)
Former Emmerdale star Roxanne Pallett - who we spoke to before her recent Celebrity Big Brother appearance - on why she's taking part in C4's Celebrity Island with Bear Grylls
Ex Emmerdale star Roxanne Pallett will this Sunday be seen in the new series of Celebrity Island with Bear Grylls alongside TOWIE's Pete Wicks, Julia Roberts' brother Eric, Martin Kemp, Olympians James Cracknell and Anthony Ogogo, Jo Wood, Love Island's Montana Brown, presenter Paris Lees and TV doctor Saleyha Ahsan.
When we caught up with the star before her Celebrity Big Brother appearance, Roxanne admitted she was trying new things: "For years I considered acting the one and only but a year ago I decided I needed to be challenged more. My radio breakfast show gave me so much confidence; I felt that I had to roll with where life was taking me.
She continues: "In my twenties I'd been told to do acting or people wouldn't take me seriously. But now I'm in my thirties I think, I don't care if people take me seriously or not, I just want to be happy, have fun and do creative things! I think the biggest role of my life is myself."
Here, Roxanne Pallett, 35, tells us more about Celebrity Island with Bear Grylls…
Were you a fan of Bear Grylls The Island before you agreed to go?
Roxanne Pallett: "No! I have to be completely honest – I'd only seen little bits of it, and I remember thinking 'who would do that?' It was to my mum, my boyfriend and my friends' horror when I told them I was going to do it."
Why did you say 'yes'?
RP: "Even though I'm not an outdoors girl – I don't own a pair of wellies and I'm not even a fan of beach holidays! – I was drawn to it. The more I thought about it and what a challenge it would be, the more I thought, this could be the making of me. Imagine if I could push my limits and before you know it, I'm like Tom Hanks in Castaway!"
Why do you think your friends and family worried about you?
RP: "Well, my mum was horrified thinking of me on a desert island with a machete, fending for myself – I don't even know how to cut an avocado without checking YouTube! My boyfriend knows I inspect all the sell-by dates in the fridge. I don't eat fish either, and avoid the fish counter at the supermarket… so they were panicking for me!"
Once you'd agreed to take part, did you watch earlier episodes?
RP: "No, I sometimes think ignorance is bliss! I used to be one of those cynical people who thought – 'as if you'd do a show you'd not seen'. But there are so many channels and shows out there… I'm still watching the box set of Breaking Bad! When I signed up for The Island I listened to the producers, the casting director and the camera crew who'd been before. I didn't want to obsess over previous contestants in different series."
Do they allow you to bring much with you?
RP: "One outfit! They give everyone a precise checklist. Its very much one outfit with three different layers – a bikini or swimsuit, socks, waterproof trousers, a t-shirt and a raincoat. I had a ball picking out my outfit at Mountain Warehouse, it was like Barbie goes camping, I wanted it all in pink. I thought if I get lost then they'd find me! Everyone else confessed that they were training beforehand, doing stamina and survival techniques, looking at their nutrition and going to the gym, while I spent a week thinking about what I was going to wear on my hat. And guess what? Thirty seconds after jumping off the boat into the sea, I lost the hat. Mortified!"
Did you enjoy the basic survival training given before sending contestants to the Island?
RP: "Bear Grylls' team were incredible. We had three days of survival training, which I could have done with earlier in life! They taught us how to create spears and make basic survival tools out of scraps of things we'd find in nature. Creating a fire is far more complex than rubbing two sticks together. They were so patient. I know I was the weakest link. I burst into tears when they showed us how to gut a fish!"
Did you surprise yourself when you got to the Island?
RP: "A little bit. Eric struggled with swimming from the boat to the shore and dropped his watertight box with supplies in it. So I swam to shore with both mine and Eric's boxes. I felt like, if the show ended there, I had won! But the show had just begun…"
Watch Roxanne Pallett in action on Celebrity Island with Bear Grylls on C4 on Sunday at 9.00pm.
Get the latest updates, reviews and unmissable series to watch and more!
Thank you for signing up to Whattowatch. You will receive a verification email shortly.
There was a problem. Please refresh the page and try again.