Rufus Sewell was 'only too happy' to return to Victoria as Lord Melbourne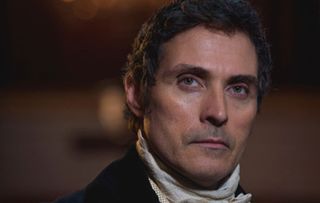 Rufus Sewell says Lord M's relationship with Victoria is different this series, but just how will Prince Albert react to his return?
The much anticipated second series of Victoria (opens in new tab) kicked off last week and was met with warm reviews. Fans of the royal drama got an unexpected treat when they saw that Rufus Sewell would be back to play Lord Melbourne.
Thankfully for Lord M-lovers, the producers found a way to bring him back without straying too far from real events.
Initially what attracted Rufus to the role in series one was that it was 'finite'.
He explained: "I really didn't want Melbourne to be hanging around beyond the natural span of his story."
He added: "When the producers came to me with a way to bring him back in season two that was still true to the story, I was only too happy to come back."
Fans shared their excitement on Twitter with several funny posts.
On this week's episode of the acclaimed show, Rufus will appear alongside Jenna Coleman (Victoria) and Tom Hughes (Prince Albert) and things could get a little awkward...
After all, Lord Melbourne was Victoria's first love, confidante and as the Prime Minister at the time in which he plays a vital role in her life.
It is therefore no surprise that Prince Albert might feel a little threatened by Victoria's old flame!
Read more...
Is Jenna Coleman engaged to her Victoria co-star Tom Hughes? (opens in new tab)
Jenna Coleman: 'Victoria is devastated to be pregnant again!' (opens in new tab)
But, Rufus explained that while he thoroughly enjoyed the chemistry that Victoria and Lord M shared, continuing it this series would not have worked.
He said: "What wouldn't work is trying to repeat the situation and the dynamic that Lord M and Victoria had in series one, fun though it was to play. That had to end and by the time Albert arrived Melbourne's role and the nature of his relationship with Victoria had changed as it should."
Explaining how Lord M navigated his new relationship with Albert, Rufus said: "There had been a certain level of imagined antagonism to start off with, but actually in reality they liked each rather a lot once the original suspicion went away, so it was lovely to come back to work a little more with Tom Hughes."
We can't wait to see how this one unfolds... How long will Lord M stick around this time?
Victoria continues on Sunday 3 September at 9pm on ITV
Get the latest updates, reviews and unmissable series to watch and more!
Thank you for signing up to Whattowatch. You will receive a verification email shortly.
There was a problem. Please refresh the page and try again.