Sara Martins: 'I'd love to do more Death in Paradise'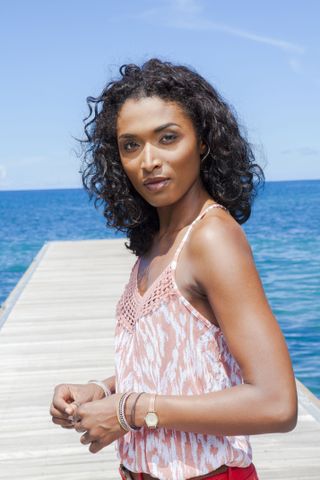 (Image credit: BBC/Red Planet Pictures/Philip Volkers)
Sara Martins, alias Ben Miller's sultry sidekick in Death in Paradise (opens in new tab) (BBC1, Tuesdays), talks to TV Times magazine (opens in new tab) about having fun in the sun with her British chums...
It must be amazing to go out to the Caribbean for your job…
"I can't complain! Every morning we wake up and there's this beautiful sunrise, and when the day is finished there's a beautiful sunset and we can go diving. It's not difficult."
How would you describe your character, Camille?
"Camille is a spontaneous woman who tries to find some fun everywhere. She finds Richard [Poole, Ben Miller's character] funny, but he's brilliant, so she has a lot to learn from him."
Did you have any experience playing similar characters before you got this role?
"I've played a lot of cops before on French TV, so I can shoot a gun, use handcuffs and fight, but this show is a lot different. On this tiny island where there are no ballistics labs, a cop has to use powers of deduction."
How have you found working with British people?
"Everything I thought about the British is true! The sense of humour is very dry, which I really enjoy, and the people have humour about themselves. The British also really value work and duty. Ben works hard to get scenes right. In France we work eight hours a day, five days a week, so for me to be on a British production it was like, 'Working 11 hours a day, six days a week?!' Okayyyy…."
Did it make you more aware of your nationality?
"It has made me realise how French I am. And Camille is so flirtatious because she's French. In my culture it's really the way it is – it's all about the romance."
Why do you think there is an attraction between Richard and Camille?
"They are so opposite, but opposites attract. They complement each other, even if they argue all the time."
It must be so hot to film there... How do you keep cool?
"My parents were born on the Portuguese islands of Cape Verde, so my genetic background, coming from an island, makes it easier for me to cope with the heat. I don't suffer like Ben does – when he is talking about his dream holidays, it's always somewhere cloudy and breezy!"
Have you found that being on the show has raised your profile?
"Just last week I got this huge envelope from my agent full of fan mail, not only from Britain, but from Italy and Australia. People had discovered Death In Paradise and enjoyed it, which is wonderful. I'd love to come back for another series."
Get the latest updates, reviews and unmissable series to watch and more!
Thank you for signing up to Whattowatch. You will receive a verification email shortly.
There was a problem. Please refresh the page and try again.