Sinnita refusing to accept Louis Walsh has quit The X Factor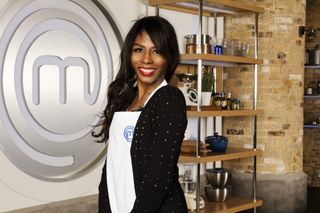 (Image credit: BBC/Shine TV/Cody Burridge)
Long-standing judge Louis announced that he was "ready to leave" earlier this week - but fellow X Factor star Sinnita isn't too convinced.
The '80s pop singer - and sometime Judges House leaf-wearer - says we've heard it all before from Louis and claims he'll be back on the show.
"Do you think he really has?" she asked The Mirror. "How many times has Louis quit X Factor? He says it every year.
"Do you think it really is it for him? He's said it before and he's always gone back. It could be just a plot.
"But saying that, maybe it is time he gave up and made way for someone new."
Could it be wishful thinking from Sinitta, who has admitted she's not sure the show would be the same without him?
"I would miss him and I think viewers will," she continued. "People will miss his bottom lip quivering when he doesn't get his own way or when he can't pronounce his contestants' names.
"Louis is a genuinely nice guy. Him and Simon are such good friends and if he really has left I'm sure they will still hang out."
Louis confirmed the news in a statement . It read, 'I've had a fantastic 13 years on The X Factor but the show needs a change and I'm ready to leave.
'I'm looking forward to another series of Ireland's Got Talent, going back to my day job as a manager, writing my memoirs, and seeing the world!'
It was also revealed this week, that Sharon Osborne will be re-joining the show - but only for the live shows.
'I can't wait to get back to the judges' desk. I love the new format,' she commented.
With Louis gone and Sharon only taking part in the live shows, Simon is looking for three more judges to join his panel.
A source confirmed to Digital Spy that Nicole Scherzinger will not be back, but could this be the year Cheryl makes her big come back?
Watch this space...
Get the latest updates, reviews and unmissable series to watch and more!
Thank you for signing up to Whattowatch. You will receive a verification email shortly.
There was a problem. Please refresh the page and try again.