The Loch star Siobhan Finneran: 'I'm up for Happy Valley 3!'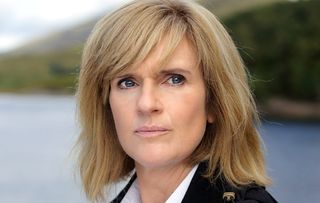 Siobhan Finneran on why she's loving The Loch and why she can't wait to return to Happy Valley
Siobhan Finneran opens up to TV Times about her current role as no-nonsense DCI Lauren Quigley in Loch Ness-set thriller The Loch, why she can't wait for Happy Valley 3 and why she still misses Benidorm…
Quigley's investigation take a new turn as she realises she might be dealing with a serial killer, while she also has to search for a missing person. She seems to have a lot on her plate… "Yes she does! She thought the murder would be an easy case to solve, but it grows much bigger and more complicated each week – sometimes even the actors were confused as to what was going on! She is an outsider in the town of Lochnefoy and she doesn't ever fit in, but she is developing a better relationship with local cop Annie [Laura Fraser] because she needs somebody who knows the area."
The Loch is very dark, but did you have a lot of fun in between takes? "We really did. I'm usually very lucky on jobs at meeting people who then become good pals and Laura and I had fun and are incredibly giggly together. It's always good when you have serious stuff to do and you can't keep your face straight. I'm still terribly immature and there is probably a really good outtakes reel!"
Would you like to do a second series? "I'd love to work with that cast again; we had a brilliant time. I loved working up in Scotland too because we shot all the studio scenes in Glasgow and it's so like Manchester. I hardly saw any of the beautiful countryside, although when I did it was glorious, but I didn't get any Nessie souvenirs!"
You missed out on a Best Supporting Actress Bafta for Happy Valley recently, but your co-star and friend Sarah Lancashire won Best Actress, were you proud of her? "Oh it made my entire evening. I don't really get the idea of awards within my industry because we're not saving lives, but her Bafta was so deserved and I was thrilled to bits for her and for Happy Valley, which won Best Drama too. I'm immensely proud to be part of it."
We're really keeping our fingers crossed for a third series – are you? "Of course! I'd absolutely be up for it because there's more to find out about Catherine and Clare and their family and history. But I imagine it'll be a little while away because the writer Sally Wainwright is so busy and everyone wants a piece of her, so Sarah and I might be on mobility scooters or zimmer frames by then!"
Are you still in touch with any of your Downton Abbey friends and would you be keen to do the much-rumoured film version? "Yes, I'm in touch with Rob James-Collier [her character O'Brien's partner in crime Thomas] and Sophie McShera [kitchen maid-turned-assistant cook Daisy] is one of my best pals. O'Brien was huge fun to play, especially in all my dealings with Thomas, so never say never to the film."
Do you still miss being on the Benidorm sunbeds? "I miss it more than I've ever missed anything; it was such a wonderful job to be on. I miss the sunshine because looking out of my window here in the north west, it's chucking it down! But I also miss the people and the laughter. I am in touch with every single member of the cast, we're like a big family and Steve Pemberton and Sheila Reid [who played Siobhan's on-screen husband and mother Mick and Madge] and I went out to dinner recently."
Would you like to do more comedy – maybe an Inside No. 9 with Steve? "That'd be fun, but you'd have to ask him! I'd love to do comedy again though because I haven't done it for a long time. I did a lot of comedy early in my career [Siobhan starred in The Russ Abbot Show and Cannon and Ball's Playhouse], but then a million years ago I did Out of Blue, a fantastic cop drama with David Morrissey, where I played a very damaged mother and that shifted me away from comedy.
"I still have fun in drama though. In The Loch, some of Quigley's lines are funny, as are Clare's in Happy Valley, so although I miss comedy, I don't feel it has gone from my work."
Watch this special Behind the Scenes video of The Loch:
http://www.youtube.com/watch?v=poW3IeCJx9Q
Do you have any acting heroes? "Oh there are lots of people that I love. Lindsey Coulson and Diane Parish [the former and current EastEnders actresses both starred with Siobhan in Clocking Off] are both brilliant and it's amazing they can produce work to that standard in soap when I know the restrictions and pressure on them. I also absolutely love Edie Falco from The Sopranos and Nurse Jackie. I just think she is fabulous and normal-looking and I believe every word that comes out of her mouth."
The Loch continues on Sunday on ITV at 9pm
Get the latest updates, reviews and unmissable series to watch and more!
Thank you for signing up to Whattowatch. You will receive a verification email shortly.
There was a problem. Please refresh the page and try again.