Special Forces episode 5 ends in a heated confrontation
One celeb's unsuccessful performance leads to a showdown with the directing staff.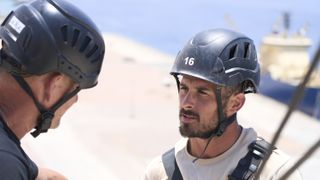 (Image credit: Pete Dadds / FOX)
Week after week, Special Forces: World's Toughest Test proves to be one of the most grueling celebrity-centric reality shows ever to grace a television screen. In particular, in Special Forces episode 5, viewers got to see contestants participate in one of the most challenging tasks yet. Understandably so, with the assignment this week being so physically taxing, tensions were running high among the celebs, and ultimately one of them lost their cool. Here's what happened.
As the trainees were preparing for the day, the directing staff informed them that their first test of the day would require them to repel 250 feet down the side of a building. For someone like Special Forces cast member Hannah Brown, that challenge alone would prove to be a tall order given she's afraid of heights. But then, the directing staff followed up the news of the repelling with the announcement that to even make it to the top of the building, they'd have to run upstairs with their gear strapped to their body. (The thought of that makes us tired.)
First up was two-time Super Bowl winner and retired NFL star, Danny Amendola. While he managed to get through the challenge, it certainly took its toll on him both physically and mentally (again, most people would be exhausted on all fronts having run up that many stairs with extra weight). However, he mustered the strength to push past his feelings of fatigue and get to the next test, which on the surface sounded exhilarating.
The celebs had to tap into their Fast & Furious skills, and drive through an obstacle course laced with gunfire and explosions. Unfortunately, it appears the only one fit to drive alongside Vin Diesel is Hannah, as she is the one celeb that actually made it through the course successfully. Danny's failure behind the wheel should have been drama-free like most of his castmates, but Directing Staff Agent Mark "Billy" Billingham decided to grill the ex-football player about it.
You see, the team of agents all recognized Danny as perhaps the strongest competitor on the show, so the staff thought he needed an extra push to really learn the life lessons he's supposed to be gaining within the training exercises. So what better way to push him than to single him out in front of others?
It's worth repeating that Danny was pretty worn out from the previous repelling task, so being confronted by Billy's "harsh" comments pushed him over the edge. Danny responded to Billy's statements in-kind with a bad attitude and some choice words of his own. The two got in each other's faces a bit, which Danny said in an interview may not have been his best idea. Take a look.
By the end of the episode, Danny is ready to pack his bags and leave. However, viewers have to wait until next week to see if he goes through with his threats to go.
Special Forces fans react to Danny's confrontation and threat to leave
Viewers took to Twitter to express their thoughts on the Danny vs Billy argument. It looks like the former has supporters cheering him on.
Special Forces: World's Toughest Test continues to air on Wednesdays on FOX. New episodes become available to stream the next day on Hulu.
Get the What to Watch Newsletter
The latest updates, reviews and unmissable series to watch and more!
Terrell Smith has a diverse writing background having penned material for a wide array of clients including the federal government and Bravo television personalities. When he's not writing as Terrell, he's writing under his pseudonym Tavion Scott, creating scripts for his audio drama podcasts. Terrell is a huge fan of great storytelling when it comes to television and film. Some of his favorite shows include The Crown, WandaVision, Abbot Elementary and Godfather of Harlem. And a fun fact is he's completely dialed into the TLC 90 Day Fiancé universe.