Meet the Special Forces: World's Toughest Test cast — who's who in the reality series
Meet the celebrities participating and keep up to date with who is still in the competition.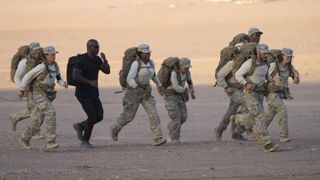 (Image credit: Pete Dadds / FOX)
The newest reality show kicking off 2023 in the "toughest" of ways is none other than Fox's Special Forces: World's Toughest Test. The series follows 16 celebrities as they try their best to survive grueling training at the hands of an "elite team of ex-special forces operatives." Despite several of the cast members being world-class athletes and seemingly used to training for their respective sports, it appears that none of the celebrities are quite ready to embrace the journey that lies ahead of them.
There is no voting out or last place finishes in Special Forces: World's Toughest Test. Instead, participants leave the show only when they have decided they've had enough.
So just who was bold enough to participate in the inaugural season of the series? And who is still toughing it out with the training operatives? Take a look and meet the Special Forces: World's Toughest Test cast and see who has left the show.
Dr. Drew Pinsk
Although Dr. Drew Pinsk is an internist and addiction medicine specialist, he's most recognized for his work on TV. He's hosted Dr. Drew On Call and Lifechangers, as well as starring in Celebrity Rehab with Dr. Drew, Sex Rehab with Dr. Drew and Celebrity Rehab Presents Sober House. Additionally, Dr. Pinsk served as the host of the syndicated radio talk show Loveline from 1984 to 2016.
Medically withdrew week 1.
Montell Jordan
Montell Jordan is a Grammy-nominated singer and songwriter, and is best known for hits like "This Is How We Do It" and "Somethin' 4 da Honeyz." He was recently spotted as the Panther in The Masked Singer season 8.
Medically withdrew week 1.
Tyler Florence
Tyler Florence is a renowned chef and restauranteur who has furthered his reach into TV. He's hosted Food 911 and How to Boil Water and co-hosted the popular Food Network series Worst Cooks in America. He can also be spotted in The Great Food Truck Race.
Voluntarily withdrew week 1.
Kate Gosselin
Kate Gosselin rose to prominence by putting her family life on display in Jon and Kate Plus 8, which featured her now ex-husband and their sextuplets and twins. She's also been spotted in Dancing with the Stars and Celebrity Wife Swap.
Medically withdrew week 1.
Jamie Lynn Spears
Jamie Lynn Spears is the younger sister of pop legend Britney Spears, but she's managed to make a name for herself. She spent years as the star of Nickelodeon's Zoey 101, has recorded her own music and is currently featured as Noreen in the Netflix hit series Sweet Magnolias.
Voluntarily withdrew week 2.
Mel B
As a member of one of the best-selling girls group of all time, Mel B (Scary Spice) hardly needs an introduction for most. Outside of her membership in The Spice Girls, she's been a constant on reality TV, having been a judge on America's Got Talent and the UK's The X Factor, plus she's taken her talents to Broadway starring as Roxie Hart in Chicago.
Voluntarily withdrew week 2.
Nastia Liukin
Five-time Olympic medalist Liukin won the gold at the 2008 Summer Olympics as the women's All-Around gymnastics champion. She later was spotted as a contestant on Dancing with the Stars season 20.
Voluntarily withdrew week 2.
Beverley Mitchell
Beverley Mitchell is an actress who grew up before TV watchers' eyes on 7th Heaven as Lucy. She's also been seen portraying Kaitlin O'Malley in The Secret Life of the American Teenager and Laura Hunter in Saw II.
Voluntarily withdrew week 4, but after fearing for her safety due to medical reasons.
Anthony Scaramucci
Despite spending the bulk of his career in the finance industry working for Goldman Sachs and starting Oscar Capital Management and SkyBridge Capital, Scaramucci is most widely known for working in President Trump's administration, even though he only served as Trump's White House Director of Communications for 10 days.
Voluntarily withdrew week 6
Kenya Moore
The infamous Peach herself has been a staple on The Real Housewives of Atlanta since 2012. While Kenya Moore has collected many fans with her quick wit displayed in the Bravo series, she first rose to stardom winning 1993's Miss USA title. Additionally, she's guest-starred on a number of popular shows including Girlfriends and The Parkers, and has been seen in films like Deliver Us from Eva and Waiting to Exhale.
Medically withdrew week 6.
Mike Piazza
Mike Piazza is a former catcher in the MLB. His professional career spanned from 1992 to 2007, and in that time he became a 12-time All-Star, National League Rookie of the Year and played for teams such as the Los Angeles Dodgers and New York Mets. He was inducted into the Baseball Hall of Fame in 2016.
Danny Amendola
The two-time Super Bowl winner entered the NFL in 2008 after being drafted by the Dallas Cowboys. Since then, Danny Amendola has played for other teams like the Philadelphia Eagles, the former St. Louis Rams, the New England Patriots and the Detroit Lions.
Hannah Brown
The former Miss Alabama has been making her rounds on reality TV since departing from the pageantry world. Hannah Brown was a contestant on season 23 of The Bachelor and was front and center in season 15 of The Bachelorette. Additionally, she was featured as a contestant on Dancing with the Stars season 28.
Dwight Howard
An NBA champion and eight-time NBA All-Star, Dwight Howard has made quite the career in professional basketball. He's formerly been a teammate to Lebron James and Kobe Bryant, and has adorned jerseys for the Orlando Magic, the Philadelphia 76ers and the Lakers just to name a few. He currently plays for the Taoyuan Leopards of the T1 League.
Gus Kenworthy
Gus Kenworthy is a silver medalist, having placed second in the Men's slopestyle at the 2014 Winter Olympics. He also has a career as a Youtuber and actor, recently spotted as Chet in American Horror Story: 1984.
Carli Lloyd
Carli Lloyd is a two-time World Cup and Olympic gold-winning soccer player for the US Women's National Team. When she didn't compete on the international stage, she played professional soccer in the US on teams like the Western New York Flash, the Houston Dash and the NJ/NY Gotham FC.
Special Forces: World's Toughest Test airs live on Wednesdays on Fox with episodes becoming available to stream the next day on Hulu.
Get the latest updates, reviews and unmissable series to watch and more!
Terrell Smith has a diverse writing background having penned material for a wide array of clients including the federal government and Bravo television personalities. When he's not writing as Terrell, he's writing under his pseudonym Tavion Scott, creating scripts for his audio drama podcasts. Terrell is a huge fan of great storytelling when it comes to television and film. Some of his favorite shows include The Crown, WandaVision, Abbot Elementary and Godfather of Harlem. And a fun fact is he's completely dialed into the TLC 90 Day Fiancé universe.
Thank you for signing up to Whattowatch. You will receive a verification email shortly.
There was a problem. Please refresh the page and try again.