Special Forces sends another Olympian home after life-threatening medical scare
Plus, a Hall of Famer calls it quits.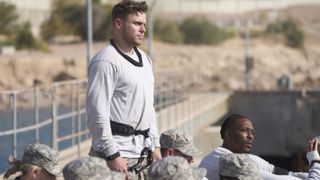 (Image credit: Pete Dadds / FOX)
It probably won't come as a surprise to fans of Special Forces: World's Toughest Test that the challenges have become increasingly harder and the directing staff agents haven't let up in applying pressure on the celebrity contestants.
While many on the show's cast have shocked viewers with their determination and ability to complete the various tests and obstacle courses, week by week five contestants have stood out: Gus Kenworthy, Carli Lloyd, Hannah Brown, Dwight Howard and Danny Amendola. They've all proven they have the mental and physical toughness to go the distance. Unfortunately, one of them was forced to leave due to a medical emergency in the episode that aired on February 15. That person was Olympic silver medalist, Gus.
The events that led to his departure started after he completed one of the tests for the week, but later realized that he misplaced his training gear (his numbered armband). In the Special Forces world, misplacing gear is a punishable offense and directing staff agent Remi Adeleke was certainly glad to remind Gus of that. Remi ordered the Olympian to get completely wet, cover his body with sand and then do 20 burpees. In comparison to some of the challenges, the task didn't seem incredibly challenging, yet things went terribly wrong.
Shortly after doing the burpees, Gus started to become incredibly ill. He informed Carli that he was experiencing chest pain and then started to violently vomit. The medics on hand immediately assisted Gus, who by then also complained that it felt as if something was in his throat and he was experiencing stomach pains.
As it turns out, Gus suffered from a "life-threatening anaphylactic reaction." Since the medics were unable to pinpoint the cause of the reaction and were fearful of a possible "rebound anaphylaxis," Gus was forced to medically withdraw from the competition.
Elsewhere in the episode, baseball Hall of Famer, Mike Piazza, decided to call it quits as the Special Forces challenges were now proving to be too much. With him also leaving, only Carli, Hannah, Dwight and Danny remain.
Fans react to Gus and Mike leaving Special Forces
Understandably, viewers were sad to see Gus being forced to go home. They also applauded Mike for lasting as long as he did. Check out what fans are saying on Twitter.
Special Forces: World's Toughest Test continues to air new episodes Wednesdays on Fox. Episodes become available to stream the next day on Hulu.
Get the What to Watch Newsletter
The latest updates, reviews and unmissable series to watch and more!
Terrell Smith has a diverse writing background having penned material for a wide array of clients including the federal government and Bravo television personalities. When he's not writing as Terrell, he's writing under his pseudonym Tavion Scott, creating scripts for his audio drama podcasts. Terrell is a huge fan of great storytelling when it comes to television and film. Some of his favorite shows include The Crown, WandaVision, Abbot Elementary and Godfather of Harlem. And a fun fact is he's completely dialed into the TLC 90 Day Fiancé universe.